The Plyco Guide to Decoply
Decoply is a laminated plywood sheet product made exclusively in our Melbourne manufacturing plant using a high-pressure laminate (HPL) pressed onto Birch Plywood. The panels are made to order utilising our Décor range of stunning HPL laminate colours.
Article header image credit: Writix
Decoply is available in a 2400 x 1200mm sheet size and is available in 8 different thicknesses (4mm, 6mm, 9mm, 12mm, 15mm, 18mm, 24mm, 30mm). The wide variation in thickness allows this product to be suitable for a seemingly endless amount of applications, as at one end of the scale you have the immense strength of a 30mm sheet, while at the other end you have lighter and more nimble thicknesses to be utilised.
Decoply Options
At Plyco, we offer a mind-blowing 13 different colour options in our Decoply range. These colours fall into one of two categories; solid pastel laminate colours and woodgrain colours.
Pastel Colours
There are 10 solid laminate colours covering pretty much every single colour of the rainbow. We offer two different blacks with our Raven and Charcoal options. Raven is a more "traditional" black, while Charcoal has a hint of grey to its colouring for those projects where you don't want a deep, dark black. Most companies would think to offer multiple options in black is unnecessary, but at Plyco we strive to have every customer's needs covered.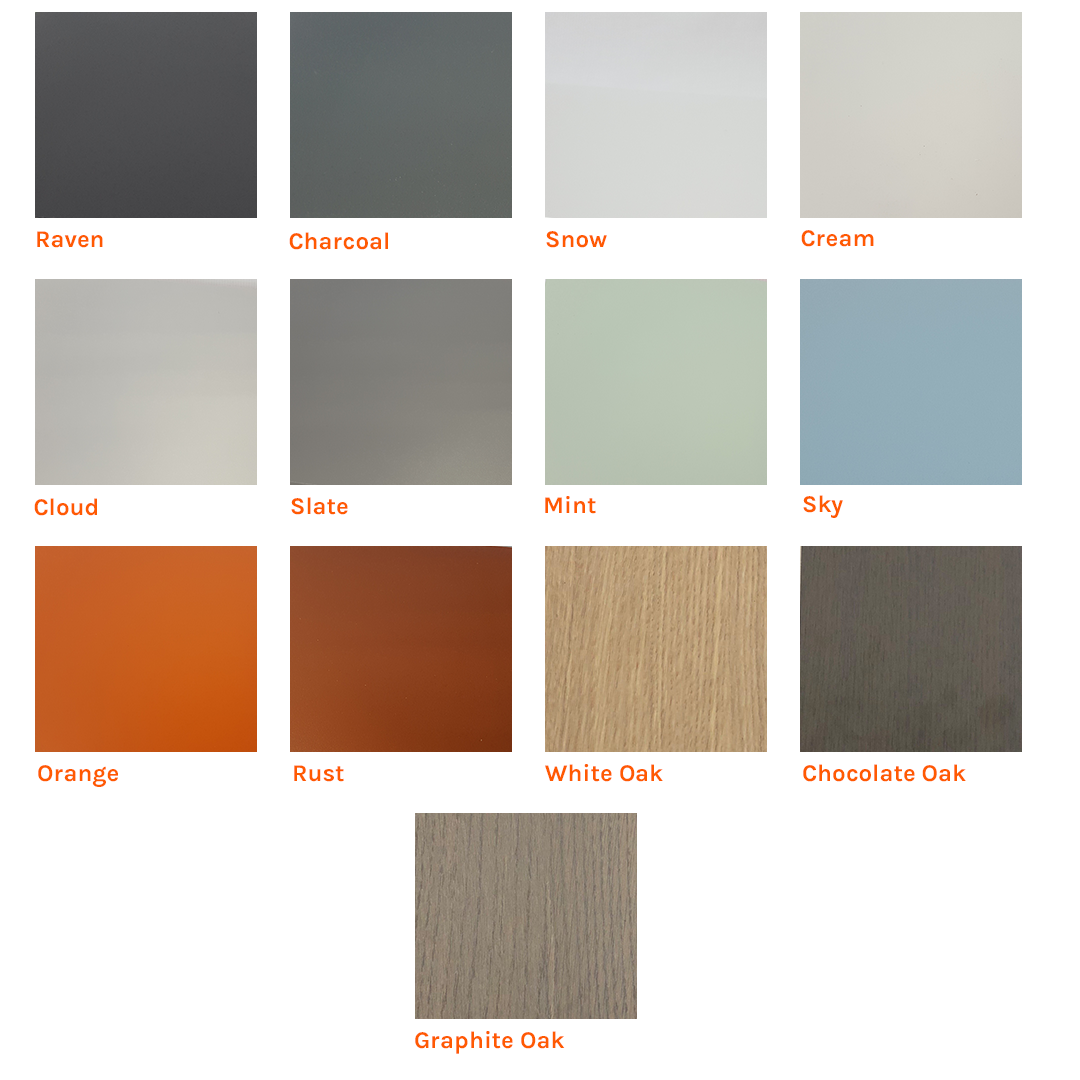 However, not all of the love is just being shown to our black colours, as we also have multiple whites and Slate (our grey option) to throw into the mix too. Snow is a pure white that is joined alongside by Cream and Cloud. Cream is a soft white colouring with a slight hint of yellow, while Cloud mixes white and grey together to create a much softer version of Slate.
The other colours that Plyco offer are a vibrant range of pastels. These colours are:
Mint - A bright and fresh light green
Sky - A vibrant and light pastel blue
Orange - An eye-popping orange
Rust - A unique metallic orange-brown earthy colour
Plyco's vibrant, pastel Mint Decoply leaves a memorable impression
Woodgrain Colours
Finally, we have our woodgrain colours. These three laminates are vastly different from the solid colours as they invoke a more organic, woodgrain look. Our Graphite Oak is a light brown in colour, while Chocolate Oak is at the other end of the spectrum; a dark brown with very fine grain detail. Lastly, we have White Oak, which boasts a light blonde colour.
Applications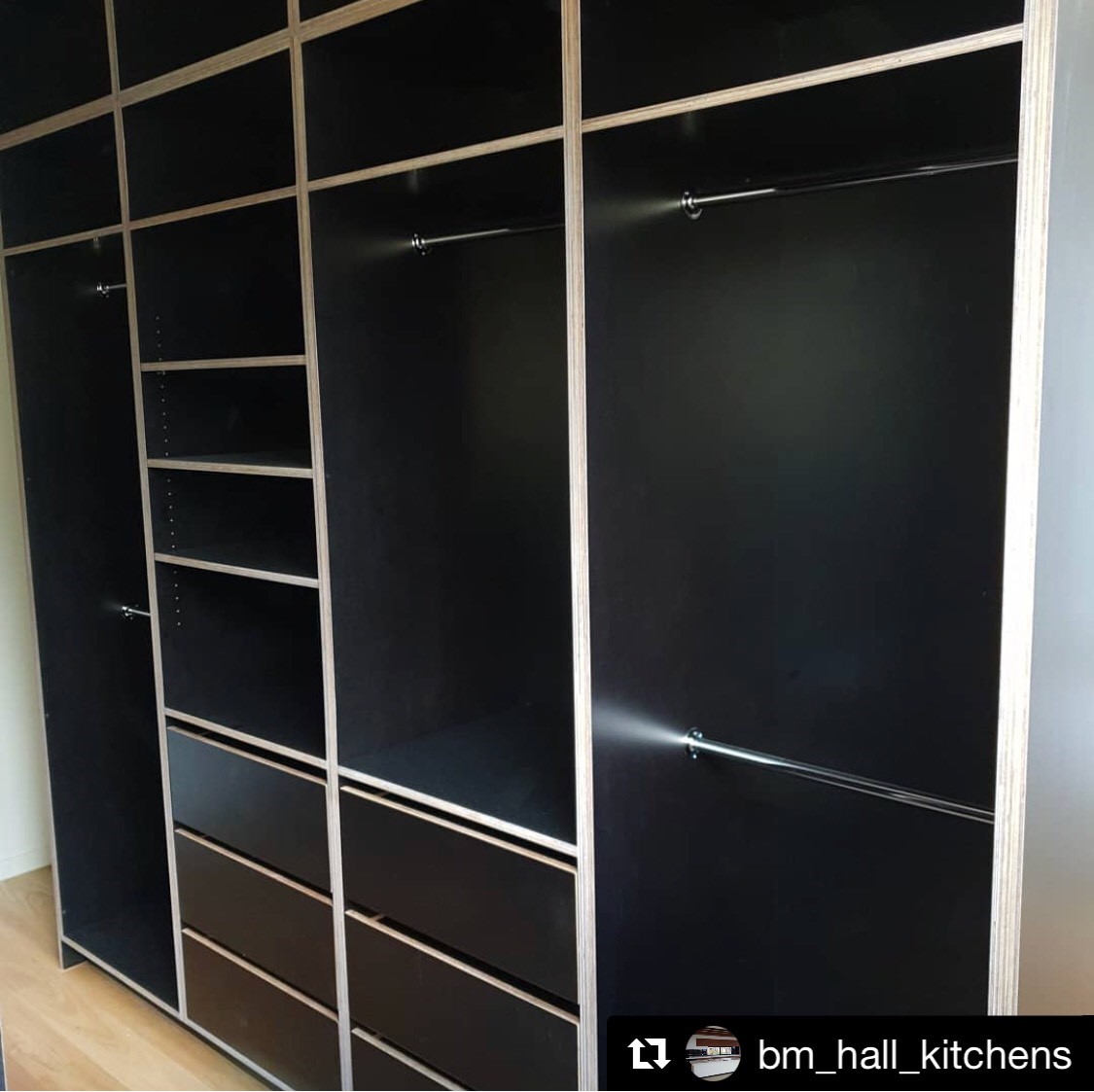 A wardrobe made entirely from Plyco's Raven Decoply by BM Hall Kitchens
In combining the beauty of our high-pressure laminates with the unmatched quality of our Premium Birch Plywood, it's perfect for a diverse range of applications. One of the most common applications we see Decoply used for is shop fitting. It's a natural fit (pardon the pun) because of the huge range of colours available. This means there's a whole host of unique looks that Plyco can offer your fit out, from neutral blacks and whites to Mint or Orange that really pops and is sure to catch the eye of anybody who sees it.
Similarly, Decoply lends itself perfectly to furniture making and cabinetry. One of the big benefits here is that you already have a ready-made finish to the product, meaning you don't have to spend time finishing the product after you've put together your masterpiece!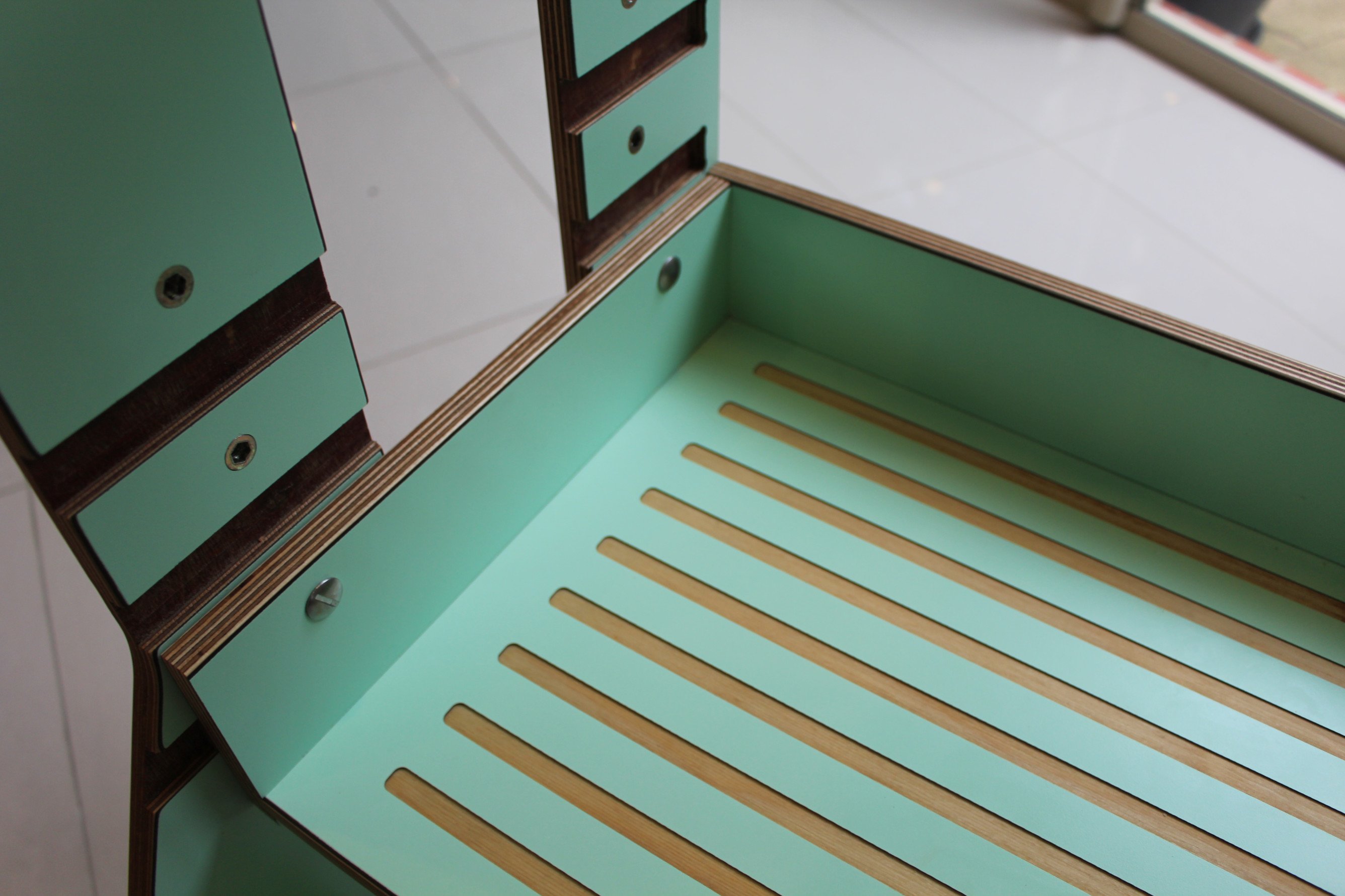 Kidstar's learning tower made from our Mint Decoply
Another of Decoply's standout applications is its use in the creation of stunning tabletops. The ultra-smooth finish of Decoply makes it perfect for kitchen counters, benchtops, cafe tables, and anything in between. With the strength of Plyco's signature Birch Plywood at its core, it will also be able to withstand all the trials, tribulations, and trauma that come with being a high-use piece of furniture.
If all this Decoply talk has got your heart racing, check out our complete Decoply range in our online store. You can browse every option and even request a sample pack of all the colours, so you can truly try before you buy!