This post is part of Plyco's Guide to Laminated Plywood
Your first thought when you need to buy Plywood might be to head to your local Bunnings and browse their selection. This is understandable considering Bunnings is essentially an Australian icon at this point. However, you're probably doing yourself a disservice if that's the first stop on your Plywood journey. If you really want to make the most of your Laminated Plywood purchase you're going to need to head to a store that specialises in that industry. This is where Plyco comes into play.
There are a number of reasons why the Bunnings Laminated Plywood range and shopping experience doesn't hold up in comparison to Plyco. The most important area where Plyco outshines Bunnings is in the sheer amount of variety offered. At Bunnings you'll find about 40 options in total across their entire range of Laminated Plywood. This might seem like a lot, but in reality, it's a bit of a disappointing offering. For the most part, you're limited to one or maybe two different thicknesses per option if you're lucky. In the case of their Beech Laminated Plywood, you'll be choosing between a 26mm option or an 18mm option, which means you won't be able to use that particular laminate unless your project matches those specifications perfectly.
At Plyco, all of our Laminated Plywood sheets are manufactured in our own manufacturing plant and are made to order, which essentially means you can get your desired thickness 100 per cent of the time. This makes purchasing a whole lot easier and ensures that you never have to compromise your original design idea.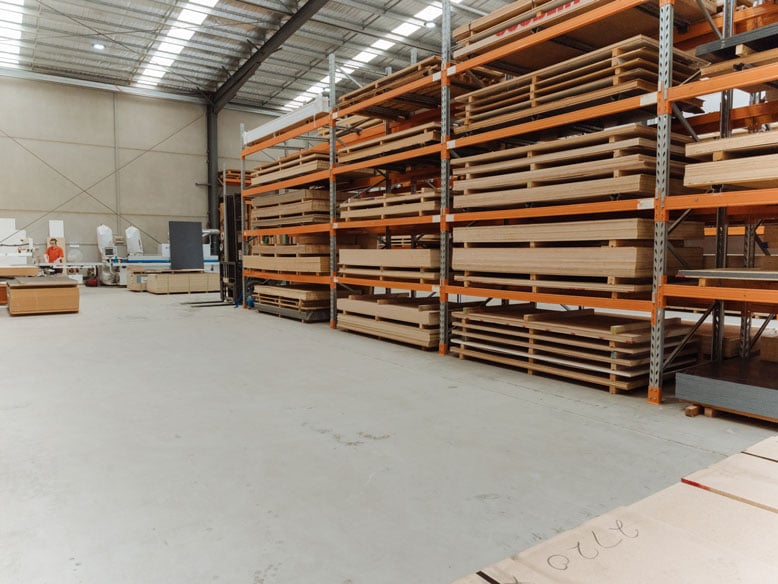 A small selection of our extensive range of Plywood available at our Mornington store
Similarly, the amount of variety in laminates that they offer is severely limited compared to Plyco. In our Decoply and Laminato, there are over 10 stock options to choose from. When it comes to Laminato the different veneer choices are almost limitless though. While we only keep certain veneers in stock, if you're after a specific commercially available veneer we will source it just for you and give it the Laminato treatment. Additionally, our Formply and Spotless Laminate products are also available in a handful of different colours. At Bunnings, you're limited to a very narrow selection of architectural appearances, with the odds of you finding the look that perfectly matches your vision being extremely low.
Not only does the product range at Plyco have major benefits over Bunnings, but the actual process of buying Laminated Plywood is much more convenient.
At Bunnings you're forced to go into your local store to purchase a sheet of Laminated Plywood. Even after all that effort, you still need luck to be on your side that the specific panel you want is in stock at that specific store. At Plyco, this particular issue doesn't exist. Thanks to our convenient online store you can not only browse all of our products online, but you can also purchase them! Once your order is placed our manufacturing team will get to work on your board, which will be ready before you know it. Never again will you have to go out of your way only to be disappointed that what you wanted to purchase isn't available.
Finally, Plyco's Australia-wide shipping is the cherry on top. Not only do you have to cross your fingers that a Bunnings store will have stock of the particular Laminated Plywood you want, but you also have to worry about having the proper means to transport it home. Again, at Plyco this isn't an issue. We have our own fleet of delivery trucks that service customers right throughout Victoria, allowing them to relax while we bring their orders to them. For interstate orders, we have partnered with courier companies to ensure our woodworking brothers and sisters outside of Victoria don't miss out on the fun.
Plyco prides itself on providing the most comprehensive range of Laminated Plywood to absolutely everybody in Australia, no matter where you're located.
We hope you've learned a thing or two with this post and hopefully, you're now aware that alternatives to Bunnings Laminated Plywood are out there and can actually offer you a whole lot more. If you're ready to start creating, head over to our online store where you can view every sheet of Laminated Plywood that we sell. Alternatively, you can check out some of our other posts in our Guide to Laminated Plywood series.