The love for our talented customers isn't stopping anytime soon here on the Plyco blog. This week the spotlight is on Erin Fairmaid and her work at Hè Hè Design.
We've admired them from afar for quite a while now, featuring their finished projects a number of times on our social media platforms. However, we decided it was time to take that relationship one step further and get to know them a little bit more. We love finding out what makes our customer's tick, and hopefully all of you reading this can come away with some new inspiration and ideas for what's possible with Plyco plywood.
What is Hè Hè Design?
Hè Hè Design is the brainchild of Erin Fairmaid. Based in Melbourne, Erin specialises in interior design and decoration, offering design, lighting, and colour consultation services. Essentially, if you're looking for help with absolutely any aspect of designing a home, Erin well and truly has you covered.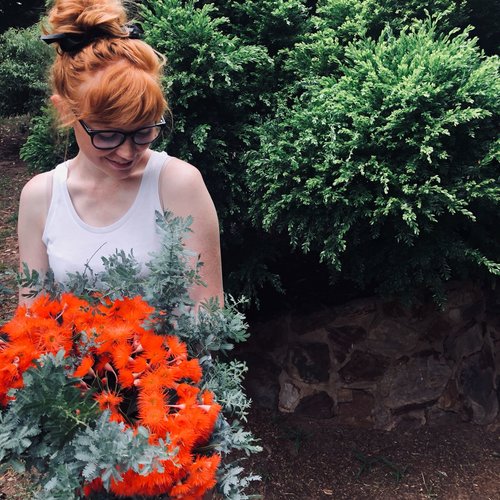 The name Hè Hè might seem a little unusual to you at first glance, but it is actually drawn from Erin's heritage, as well as perfectly expressing what she has set out to create and achieve with her studio. "Hè Hè" is a Dutch expression, which translates to a sigh of relief at the end of the day. Being of Dutch heritage, this is a strong part of Erin's identity. More importantly, this expression links into her design philosophy.
"As our day-to-day lives get more and more busy, there is nothing more important to me than having a comfortable, cosy and relaxing space to retreat to at the end of the day."
In each of her designs, Erin aims to create spaces that will inspire your mind, but also comfort the soul at the end of those long and tough days.
As you could imagine, achieving this goal with every client is a lofty task. To make sure every space she designs lives up to the Hè Hè ethos, Erin undertakes painstaking research to ensure everything comes together cohesively and matches the clients' vision.
How Does Hè Hè Design Use Plyco's Plywood Products?
Today we're focusing on Hè Hè Design's Footscray project, where Erin teamed with Nook Construction for the build.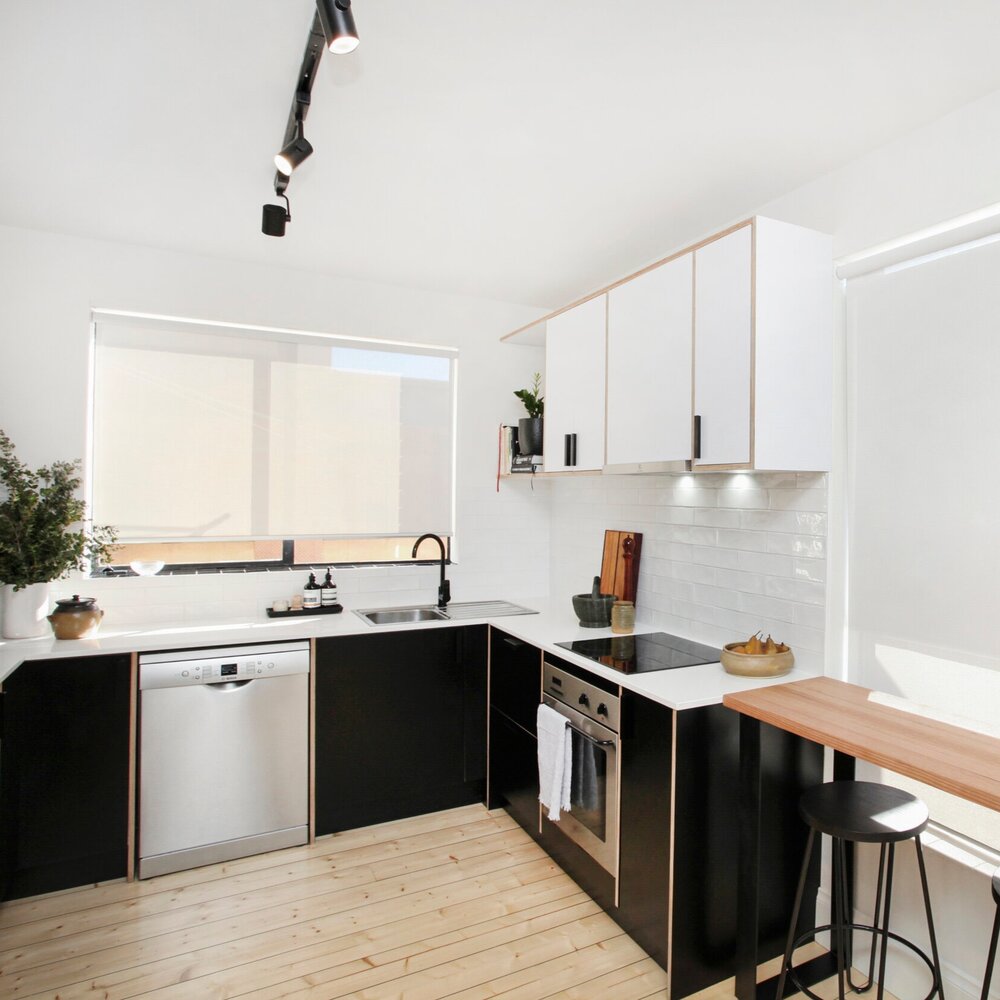 For this design, Erin wanted to pay homage to the surrounding suburb, which is steeped in history and has a very unique and distinct vibe. Capturing Footscray's charm in this apartment was high on Erin's priorities.
Erin opted to use Plyco's Decoply range throughout the kitchen, specifically in the kitchen cabinetry, citing both the functional properties and its aesthetic as the reasons behind her choice.
"The hard wearing laminated surface provides the perfect durable finish for a kitchen, knowing that it can withstand daily use without compromising aesthetic in the long-term."
Showing off the plywood end grain was also a big factor in the choice to use Decoply. Erin realised that without the grain the kitchen felt too contemporary and lost the edgy Footscray feeling she was trying to capture. It also provided some warmth to the space, as the area was mostly covered in blacks and whites due to using Plyco's Raven and Snow Decoply colours. Raven Decoply was utilised in the lower cabinets, while Snow Decoply was saved for higher up cabinets to create a contrast. To top it off, some of the open shelving was framed with the plywood end grain detail to provide space for storing cookbooks and even a small plant.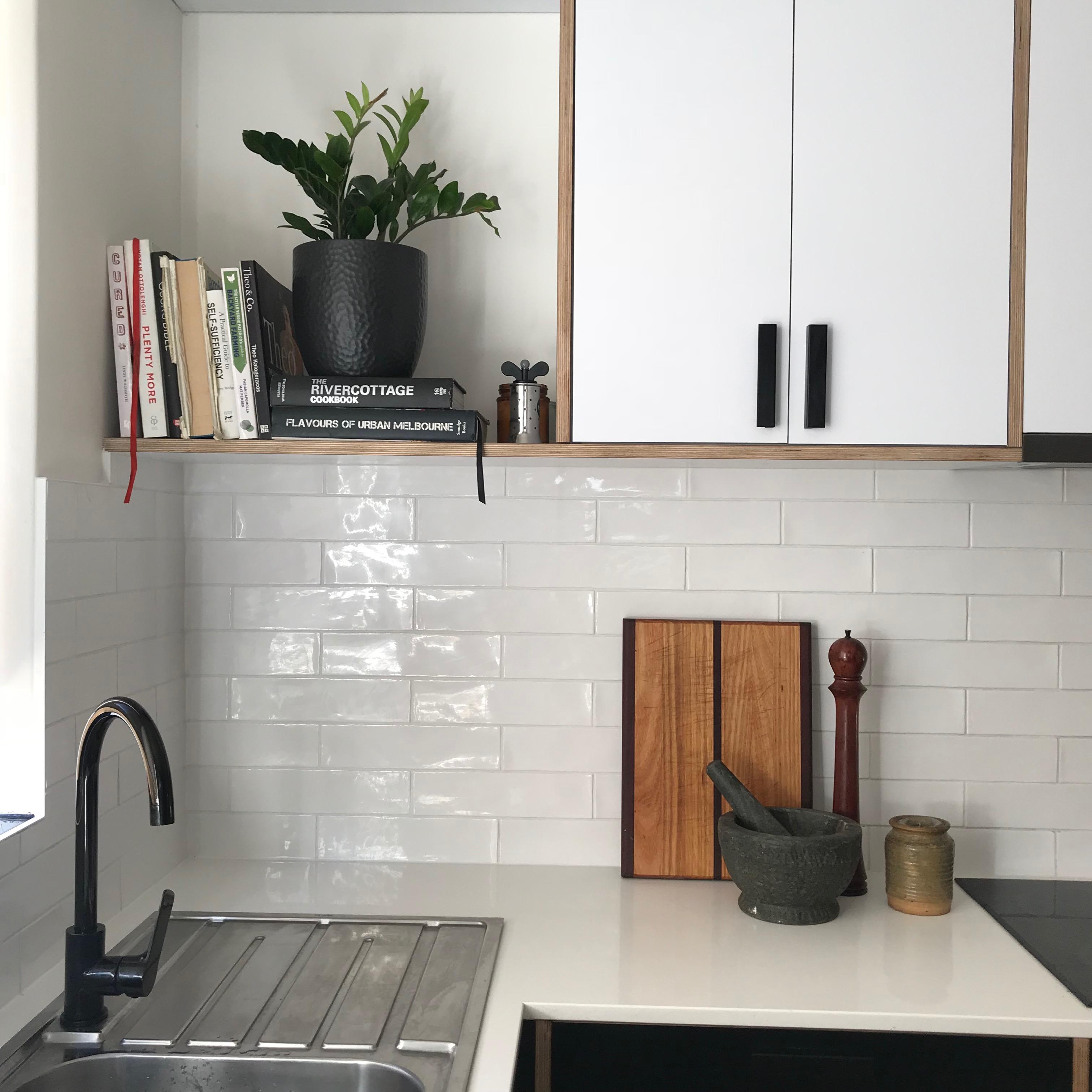 The Decoply love wasn't just confined to the kitchen though. The laundry cupboard bi-fold doors and wardrobe doors in the bedroom both utilise Decoply Snow laminated plywood, helping to keep a consistent colour and material palette throughout the entire apartment.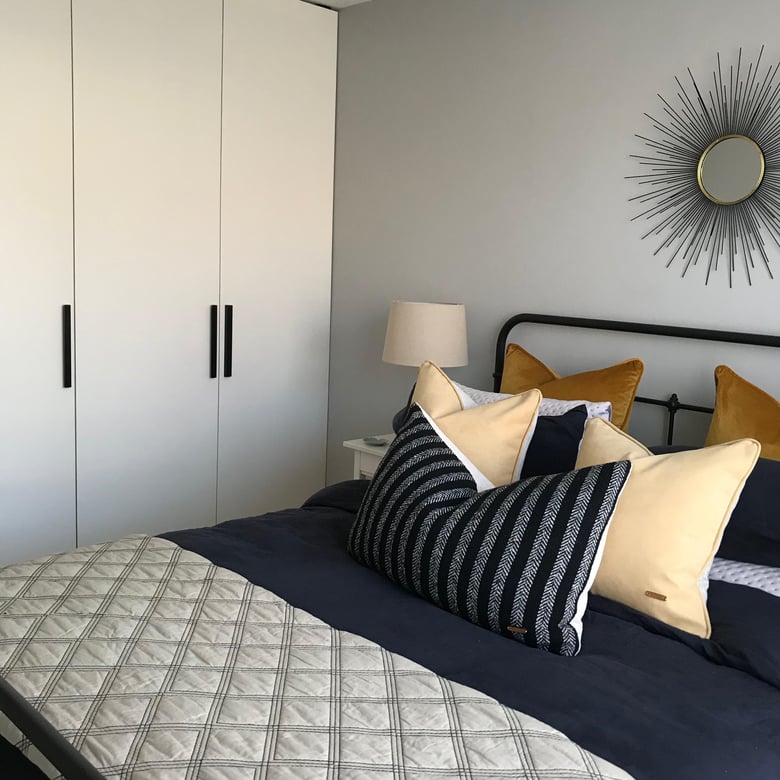 If you'd like to learn more about Hè Hè Design you can head to their website here, or check them out on Instagram.