This post is part of Plyco's Guide to Wall Panelling.
Timber-cladding isn't just something you'd consider for a home exterior these days. Many homeowners are rediscovering the aesthetic charm and functionality of interior wood panelling.
We say "rediscovering" for a reason – wall panelling is one of the oldest styles of interior wall design, dating back to medieval times. It works particularly well in bedrooms, where it can impart a cosiness and a warmth entirely suited to this most intimate of spaces.
Let's look at a brief history of wood panelling in bedrooms, then talk through what kind of panelling you might choose.
Wood Panelling Through the Ages
Before modern central heating was invented, wall panels were used as much as a form of insulation as a stylistic choice. Both to keep heat in, and damp out, layers of wood were applied to a home's interior, sometimes painted, but also often left bare or varnished.
In the 13th century, Henry II imported Norwegian Wood and used it in the interior of Windsor Castle. Later, ornate French styles (Boiserie panelling) became popular and intricately carved and fitted panels were de rigeur in fashionable households.
In the Jacobean era, dark, square panelling conveyed intimacy and warmth in an era when rooms were chiefly lit by candles or oil lamps.
Then, during the English Renaissance an appetite for more open, lighter rooms flourished. Georgian homes tended to have higher ceilings, which allowed for part-timbered interiors and dado rails for paintings. Sometimes full-length panelling was fitted, often espousing a new simplicity – clean lines and minimal detailing.
In the 18th century, wainscotting was developed. Named after Danish wainscot oak, this style typically covered 1/3 to ½ of interior walls with wood wall panelling, which was then painted white in contrast to the upper wall portion which was either wallpapered or given a feature paint colour.
In the modern era, tongue and groove panelling allowed contemporary styles to borrow from traditional wainscotting while retaining a minimalist aesthetic.
Here's a great article giving the full history of this versatile material.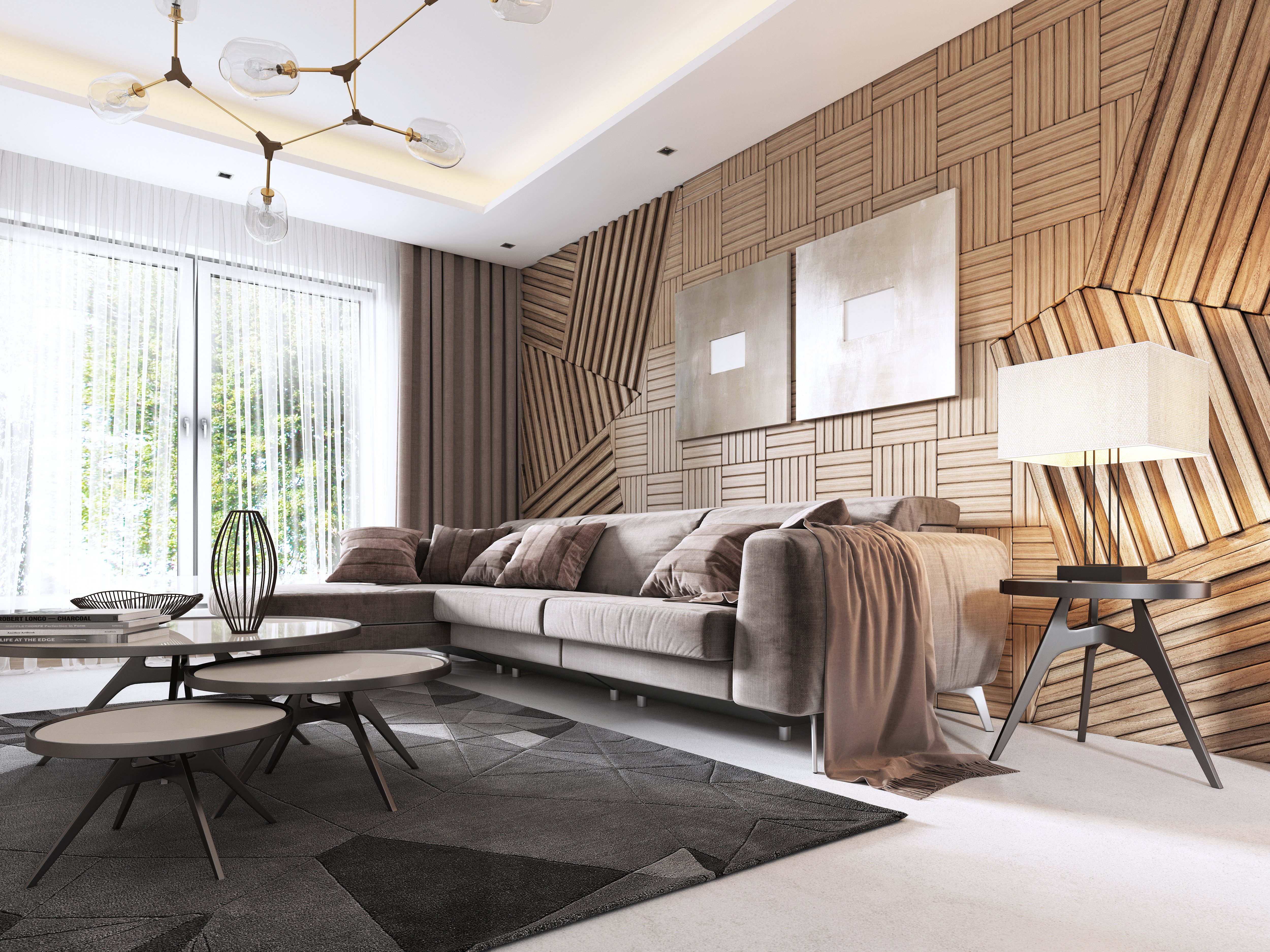 Wall panels have come a long way since the 18th Century!
Panelling for Bedrooms – the Benefits
There are a range of reasons why you might adopt wall panels for your bedrooms:
They can impart a cosy, cabin feel – untreated or lightly varnished wood can bring a warmth into your room, as well as adding a touch of nature when wood grain is left visible.

They are great insulators, reducing your heating bills and helping you lower your carbon footprint.

Wood panelling protects wall surfaces from the accidental impacts of bed headboards, chairs or lamp stands.

Panelling can be constructed to fit even awkward attic spaces, and its vertical lines can give the illusion of added height.

You can use wooden panelling on part of your walls, in classic wainscotting style, to create a timber feature wall that adds visual interest to an otherwise bland space.

Using timber wall panels as a regular design feature throughout your home can help tie disparate parts of an interior together.
Types of Panelling for Bedrooms
Panelling can come in a range of styles, materials, and finishes. Commonly used varieties include:
Minimalist – Tongue and groove technology allows panels to be fitted very closely together, leaving just a narrow line between each panel. Modern fashions tend to favour visible but minimal lines – you don't want the intersections between panels becoming intrusive. Very modern homes often opt for this minimalist approach.
Detailed – Some decorative wall panels include built-in design, such as the subtle grooves on the fascia of our Easycraft panelling. This imparts a more rustic feel and makes more of a statement. In bedrooms, it can be positioned either vertically or horizontally. Smaller rooms might benefit from horizontal panelling, whose lines seem to expand the available space.
Textured – Panels can be milled to a fine finish, or left rougher, for a more rustic feel. Both types of panelling can be painted; your choice will depend on the aesthetic you are creating. In a bedroom, our Pinoli panelling offers a natural woodgrain to absorb morning sunlight and adds visual interest.
Laminated – The addition of a durable, scratch resistant and wipeable laminate makes our Renolit Arkorcell range ultra flexible. Choose from a range of colours, textures, and subtle patterns. Make a statement with a panelled feature wall or create a contrasting wainscot on the lower portion of a painted surface.
Whichever type you choose, there are a host of ways to use our wood cladding to brighten up your bedroom interior.
Design Ideas
Here are a few bedroom projects we've spotted that have used wall panelling creatively.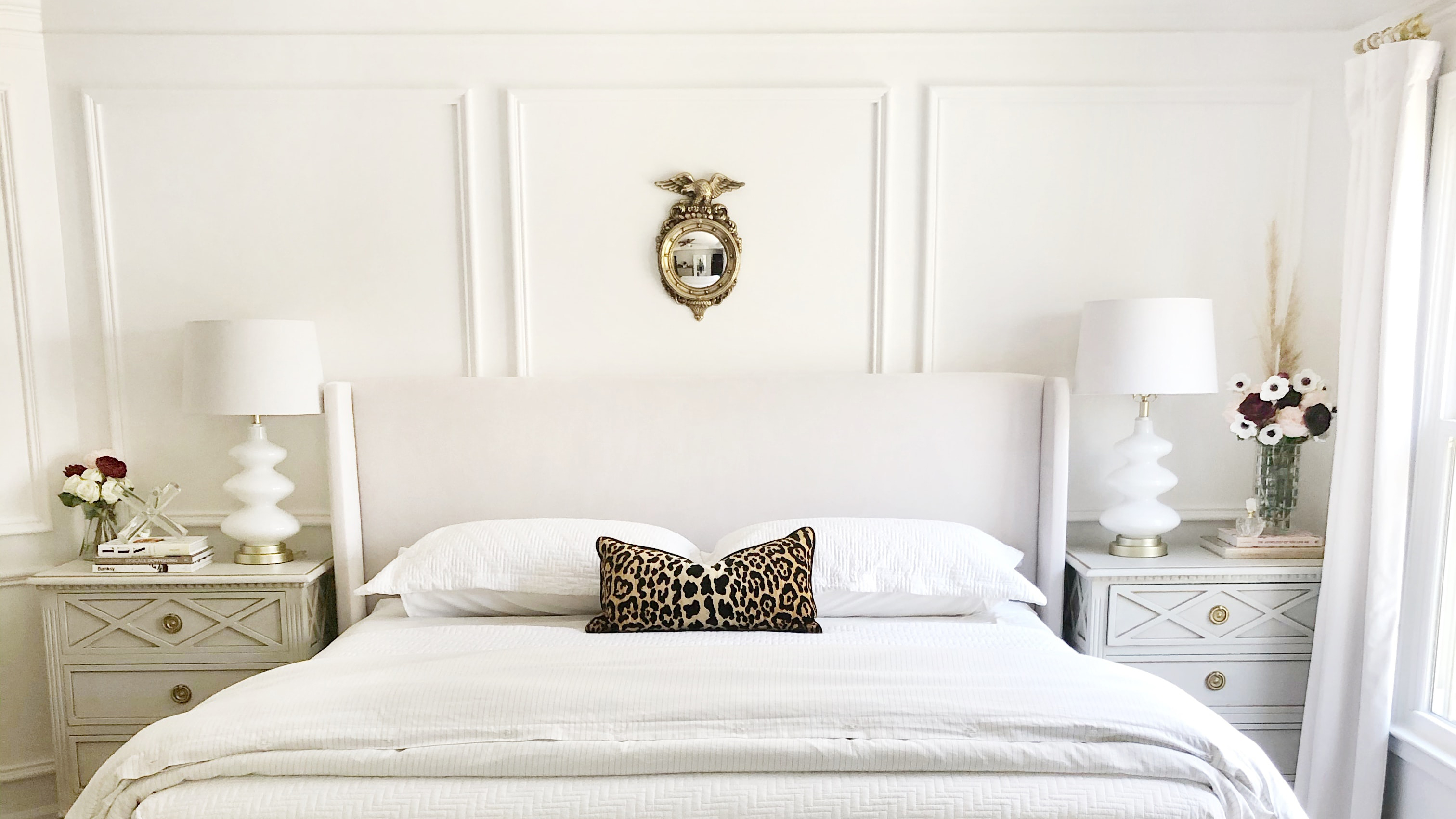 In the above bedroom, feature panelling has been used as a creative accent, adding elegance, whilst drawing your eye to the statement mirror behind the headboard.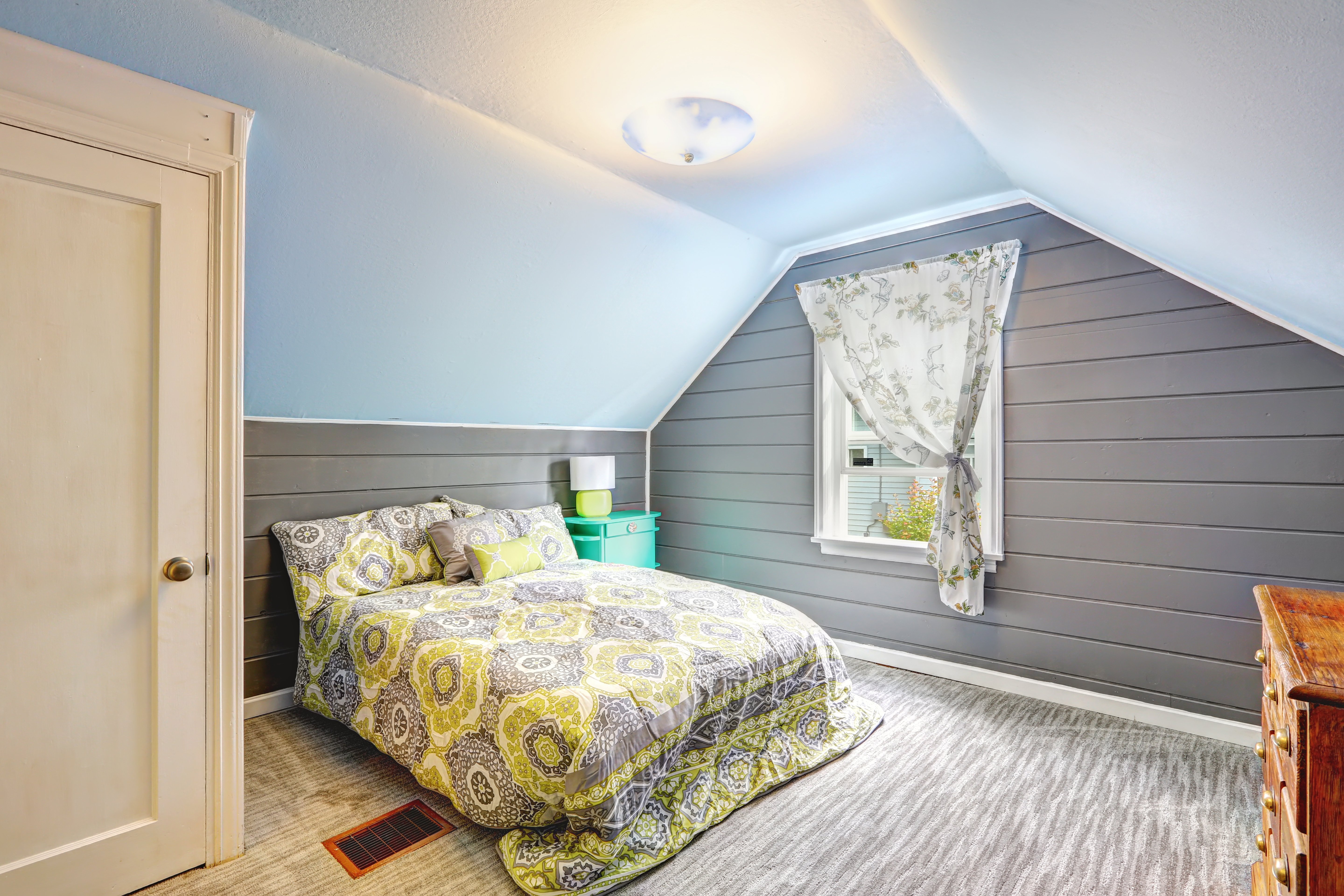 Minimalist, grey-painted horizontal panelling gives this attic a relaxed, cabin-like feel. The tightly fitted ceiling panels also creates a sense of space, providing room that could feel claustrophobic with a breath of fresh air!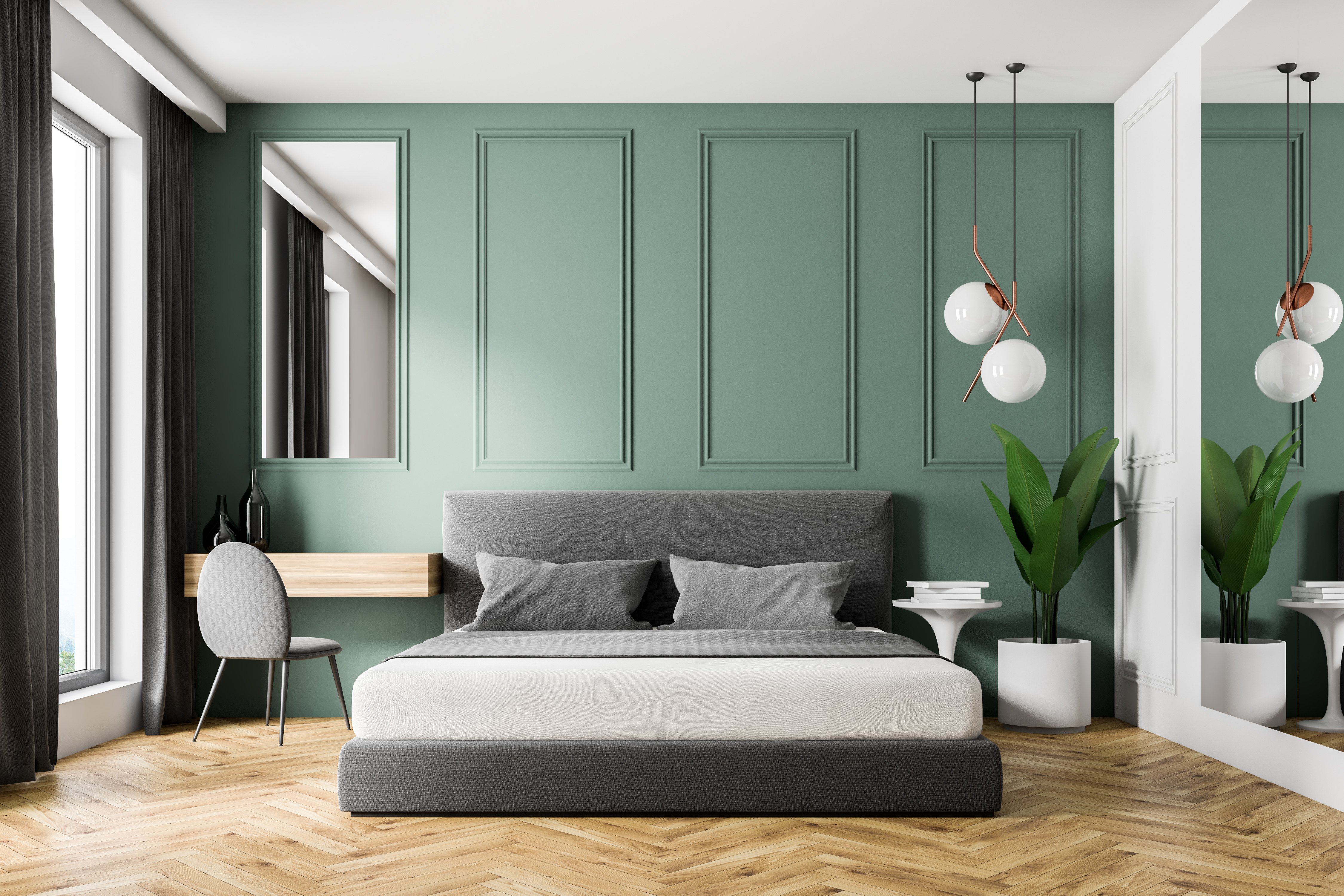 Applying MDF panelling in a similar fashion to the first bedroom, this project has lifted the look by turning it into a beautiful feature wall. The emerald painted decorative wall panels in this bedroom have created a modern classic.
Three New Classics
Plyco has recently added three new products to our expanding range of interior wood panelling. Use these panels to add warmth and visual interest to your room, to improve interior insulation and to bring a bit of classic styling back into a modern build or renovation.
New to the Plyco Range
Joining our ever-popular Shadowclad exterior panelling are the following three products.
Pinoli conveys a natural, rustic warmth to any interior. Tailored for interior wall and ceiling linings, Pinoli is versatile and ideal for bedroom interiors. It can be left natural or textured and primed for a paint of your choice.
Sustainably grown on Radiata Pine plantations in New Zealand, Pinoli is bound with a strong, synthetic phenolic (PF) resin. Pinoli is available in a Textured (bandsawn) or Classic face appearance.
Easycraft adds a little retro detailing to your interior panelling. Inspired by regency elegance, Easycraft is available in three variants. VJ100 presents simple, clean surfaces whilst Regency adds bold vertical lines and Line adds subtle and timeless texture.
Just 9mm thick, Easycraft is a durable and pliable addition to our range, adding drama or elegance to any bedroom interior.
Alkorcell (coming soon!) brings modern creativity into the mix. This high-tech laminate is scratch, fade and stain resistant – perfect for a kids' bedroom. It's also very modern, complementing a contemporary interior and offering a wide range of styles and textures.
Better yet, it doesn't require paint or varnish and you can go to town with a host of colours and shades. Create intimacy or light, the choice is yours. Why not check out the range here.
About Plyco
We are an Australian manufacturer and supplier of plywood and timber products for home interiors and decoration. Based in Victoria, we have the biggest range of products, the best expertise and offer you convenient solutions to your home décor needs, at a highly competitive price
You'll find a host of design ideas and best practice examples on our blog, which we update regularly.
Visit Plyco Today
Looking for an alternative to Bunnings wall panels? Why not pop into one of our stores or browse our whole product range for ideas!
At Plyco, we're sure you'll find a wood panelling solution to transform your bedroom into the stylish and inviting space you deserve.