In 2020 we've all of a sudden found ourselves with a lot of spare time on our hands. As lovers of plywood, we've naturally turned to woodworking projects to make some of those extra hours productive. To help out our Plyco supporters our team has put together a collection of some plywood DIY home projects will make your self isolation so much easier. Plus, each one of these DIY projects is so easy to do that you can even get the kids involved!
Our first recommended project to bust the boredom in isolation is a handy couch arm tray. If you're like us, you've been using a fair bit of your isolation time to binge Netflix. There's not many better ways to relax than throwing on a series and sinking back into the couch, however, if you want to sip on your favourite beverage or scarf down some snacks, keeping them steady on the couch can be a challenge.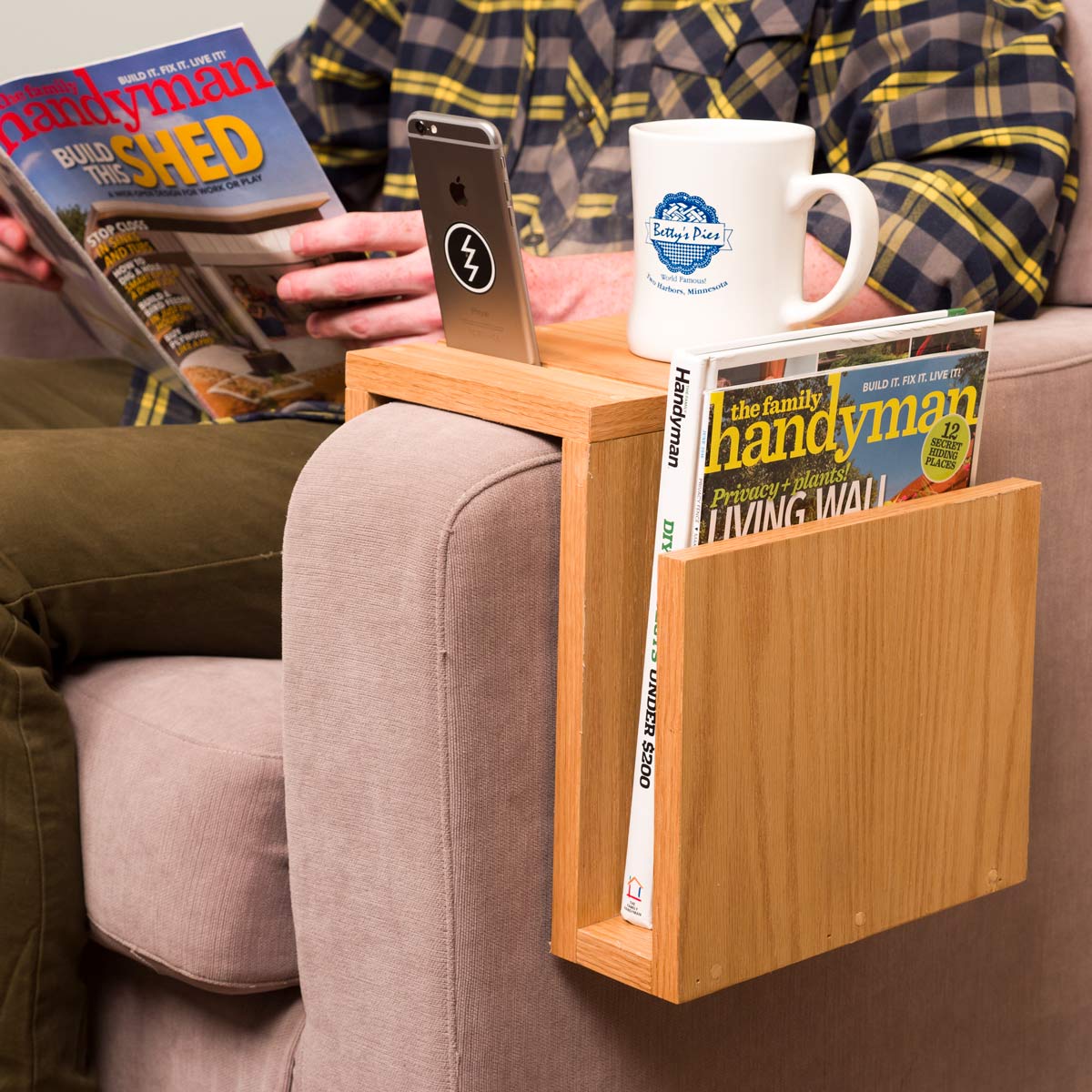 To avoid making a mess, why not try building a couch arm tray?
The best part of this home DIY plywood project is that you can make it as simple or complex as you want. Just want something basic that will sit on the arm and hold flat? Or maybe you want something with extra bells and whistles that can not only hold your drink and food, but also has extra small compartments to hold your phone? Either way you choose, your Netflix binge game is about to go up!
The beauty of this project is that you can use just about any of our plywood options to complete it. You can choose to go for a basic look, or step it up a notch with a sheet of Veneered Plywood or one of our laminated ranges like Spotless Laminate.
You can find an extensive and easy to follow tutorial here.
Are you spending more of your isolation times outdoors instead of stuck inside? If so, and you're a bit of a green thumb, this next project is perfect for you. A wooden planter is a great way to add a little bit of diversity to your garden setup, and you also get the satisfaction of knowing you built it yourself.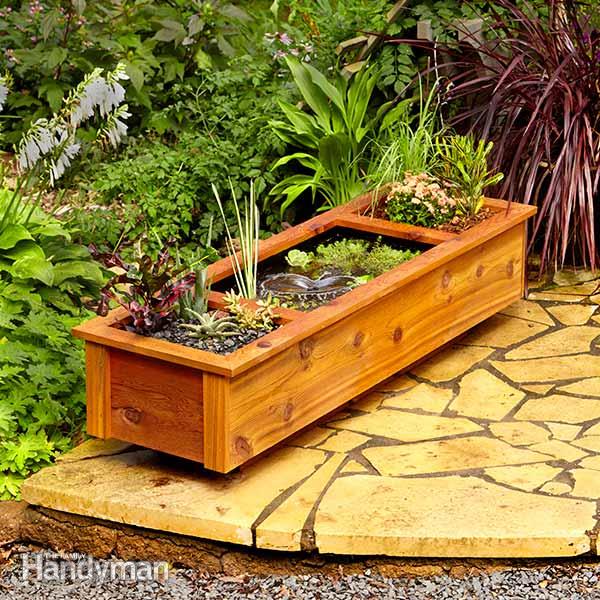 This planter is divided up into three sections allowing you to get a little creative with your plant placements. If you want to get even more creative, using some Hoop Pine Marine Plywood for the job allows you to introduce water into the mix. This means you can dedicate one of the sections to water plants, opening up a whole new world of possibilities.
To find all of the instructions for this project, head here.
Have you got a four-legged friend that is struggling to join you on the couch or in bed? Worry not, because after you complete this home DIY project your animal companion will be self isolating with you in style.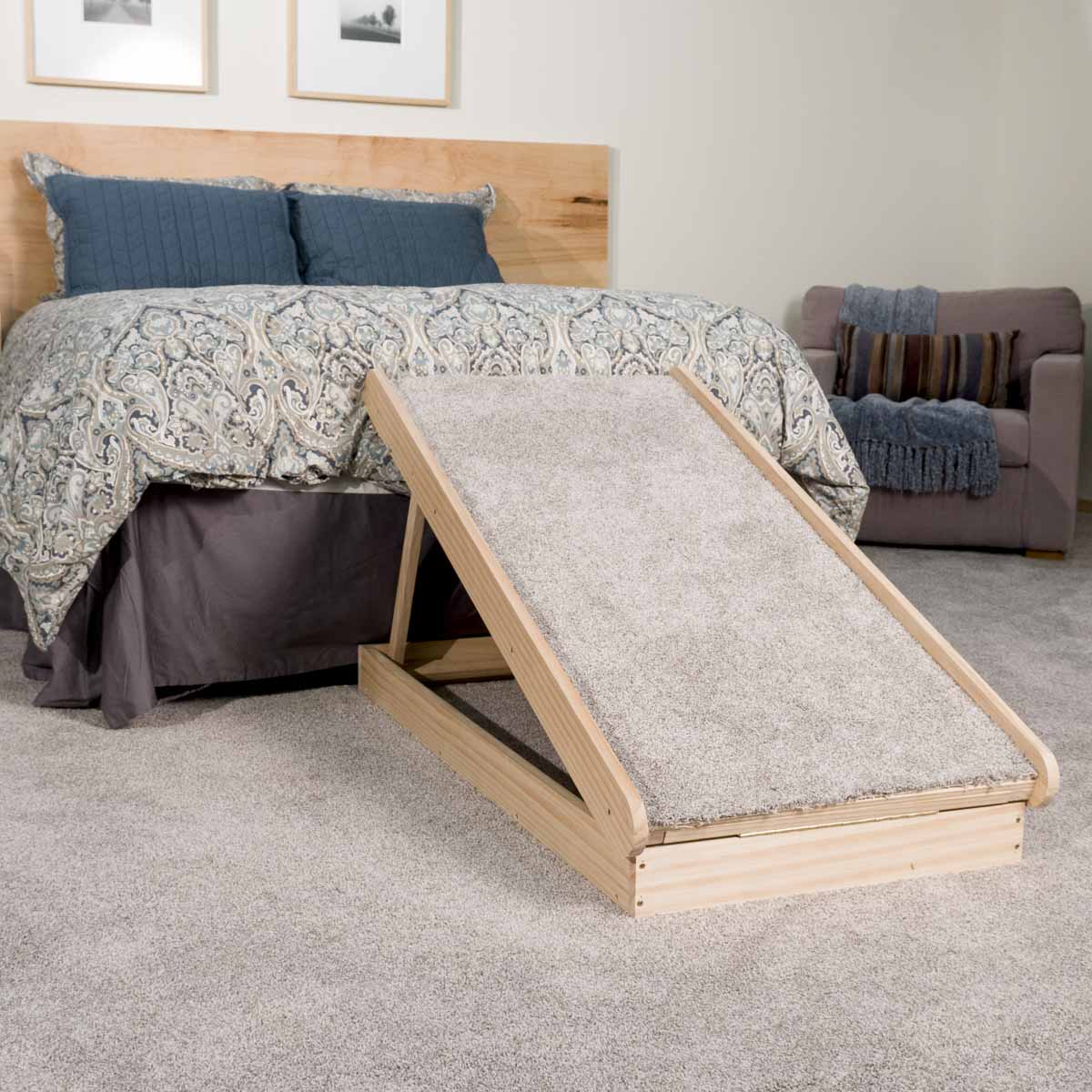 Those of us with beds and couches high off the ground, or dogs that are getting on in years, will get the most benefit out of building this dog ramp. You can tailor the size and specifications to your specific pet, and it's also collapsible. That means you can easily store it when it's not in use.
For your materials, we recommend something tough and built to last, particularly if you have a larger dog. In this case, Premium Birch Plywood is a great choice, or even Plyco's Black or White Birch Film Faced Plywood if you want to get a little fancier with the finish.
This project is a little bit more complex, but if you're up for a challenge or have experience with woodworking it's certainly a satisfying design to pull off. The full tutorial can be found here.
Now this might be the post convenient DIY project for everyone at home right now. If you're currently working from home via a laptop, this plywood laptop stand will make life so much easier.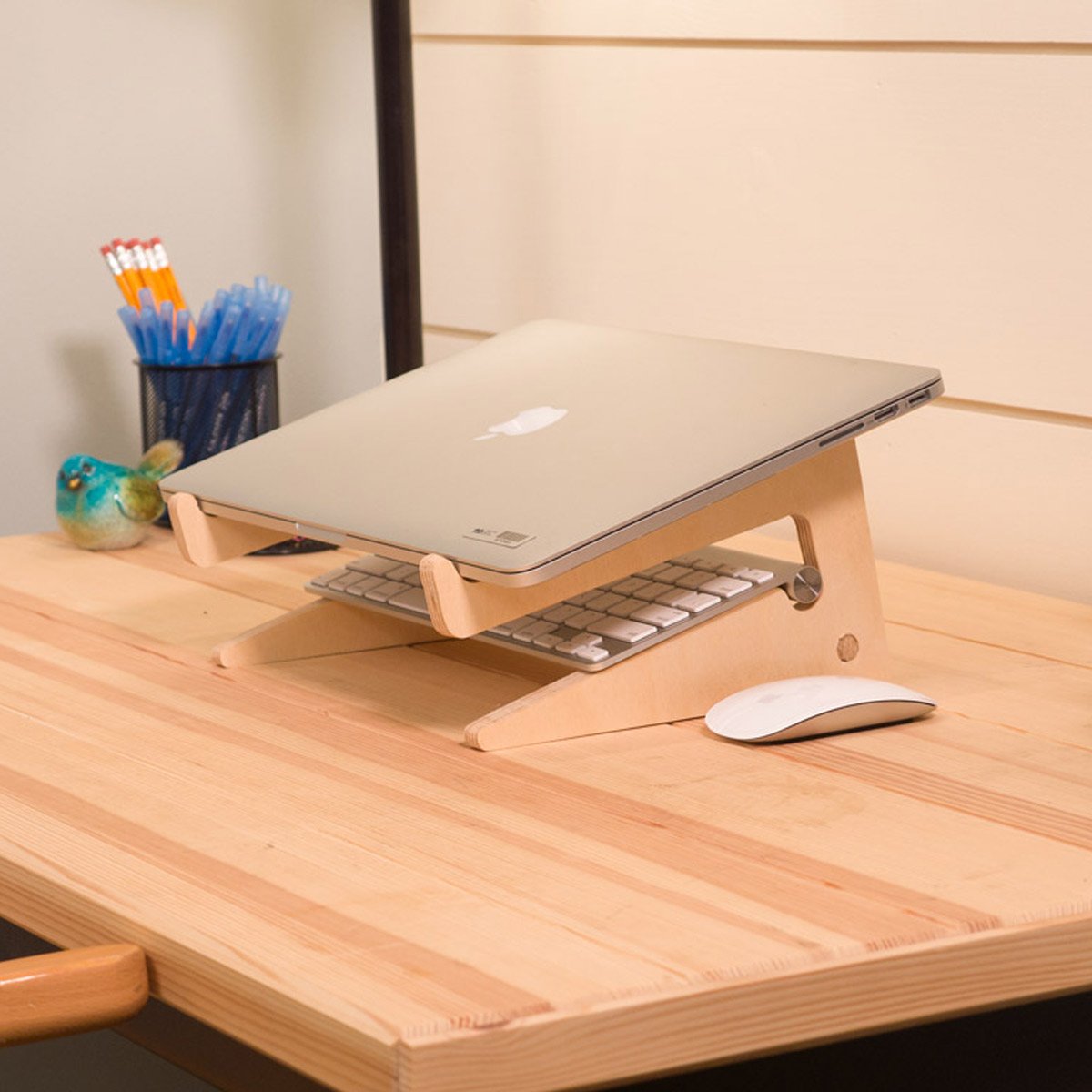 Building it will take almost no time at all, and it's so light and compact that it can be easily transferred around the house. Not to mention, it will give your new workspace that much more of an office feel, which is an important thing to have when trying to get into the groove of working from home.
To make sure the laptop stand remains portable, while also being sturdy enough to hold your laptop safely, we recommend our European Poplar Plywood. It strikes a perfect balance between being lightweight and strong enough to support a laptop at the same time, while also having a high quality finish that you can paint or stain if you choose to.
As we mentioned, this is a quick and easy project. You'll find all of the steps in this tutorial.
And last, but certainly not least, is this laughably easy bathtub tray.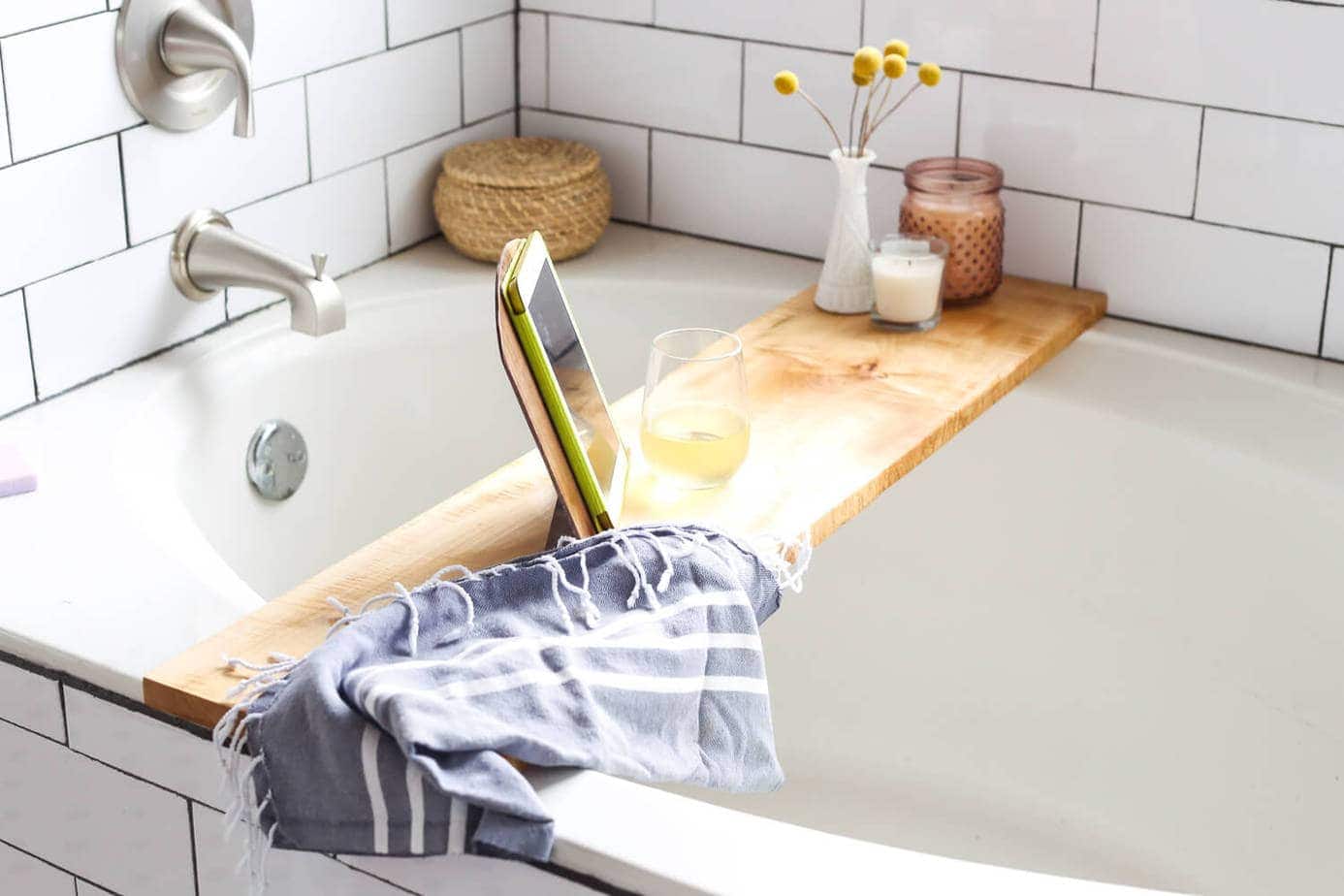 Relaxation at a time like this is vital, especially if you're working from home. You need time to unwind and de-stress, and nothing does that better than a relaxing bath. However, if you want to do anything else while taking that bath it can be tricky, especially when electronics get involved. To combat this, you're going to want a bathtub tray.
Want to watch a movie? Feeling like a glass of wine? Want to get your snack on while soaking? If you answered yes to any of those questions a bathtub tray needs to be your next project.
Because your end product is obviously going to be around water on a near permanent basis, we highly recommend using a Marine Plywood for this. Once you seal up a Marine Plywood you can rest easy knowing your brand new bathtub tray isn't going to degrade and deteriorate.
Arguably the best part of making this project is just how easy it is. You basically don't have to do anything — how relaxing is that?! If you take advantage of Plyco's cut to size service you pretty much don't have to do anything here, because we'll cut it to size for you.
However, if you're looking for extra tips and advice, we suggest checking out this handy guide by Love and Renovations.