In our last blog post we guided you through the process of selecting the right plywood for building a bed base. We thought those beds would look awfully lonely on their own, so this time we're back with a guide to building your own bedside table.
While there are some similarities to choosing plywood for a bed or for building a desk, there are a lot of subtleties that many people overlook. At Plyco, we often find that the projects that look the easiest on the surface can often be the trickiest due to these small nuances. As the old saying goes; don't judge a book by its cover!
Plywood bedside table thickness
While your bedside table is not going to be doing as much heavy lifting as your bed, you still need to build it to last. After all, a bedside table's purpose is to be able to hold things on top of it. Having said that, this is a piece of furniture where you can get away with using thinner pieces of plywood.
Our experts still most commonly recommend 18mm sheets when building a bedside table, but depending on the design of your project you have a bit of flexibility. A 15mm or 12mm sheet can still work brilliantly, but you will always need to keep its limitations in mind. It will naturally be less equipped to handle large weights, so if you that might be a concern to you we'd recommend an 18mm sheet or thicker.
While other furniture applications like desks, tables, and bookshelves have to factor in the potential of sagging, here that's not a problem. The longer your application gets the less likely the middle of the board will be able to hold up under weight at the same thickness, which means you're forced to choose thicker option, increasing your price. Bedside tables are always going to be small enough that sagging is never an issue.
Bringing style to the bedroom
While we recommend many of our flashier plywood options for furniture building, we like to keep it simple for projects like this. Premium Birch Plywood can be used to stunning effects for bedside tables. In particular, the edging can look brilliant and really make a Birch Plywood bedside table standout; something that can be pretty tough to achieve in a bedroom.
While we love the look of a regular birch sheet, we realise that some builders and furniture makers are looking to make a splash with something a little flashier. This is where our range of veneered plywood products come in.
Plyco stocks 12 unique natural timber veneers for you to select from, but if you have a particular veneer in mind that we don't stock we will source it specifically for you.
Additionally, we have our Strataply range which also offers a striking natural finish.
Strataply is purposefully designed with furniture making, cabinetry and joinery in mind. Plyco's beautiful selection of unique, decorative timber veneers are pressed onto an 18mm Birch Plywood core to create this exclusive product.
There are 13 veneers to choose from, and just like our veneered plywood range, we offer a made to order service where we can apply any commercially available timber veneer for you.
We don't just talk about how much we like Strataply though; we actually use it too! Marcus, one of our plywood gurus that you'll likely encounter if you step into our Fairfield showroom or give us a cool, crafted this little DIY plywood bedside table project in late 2019.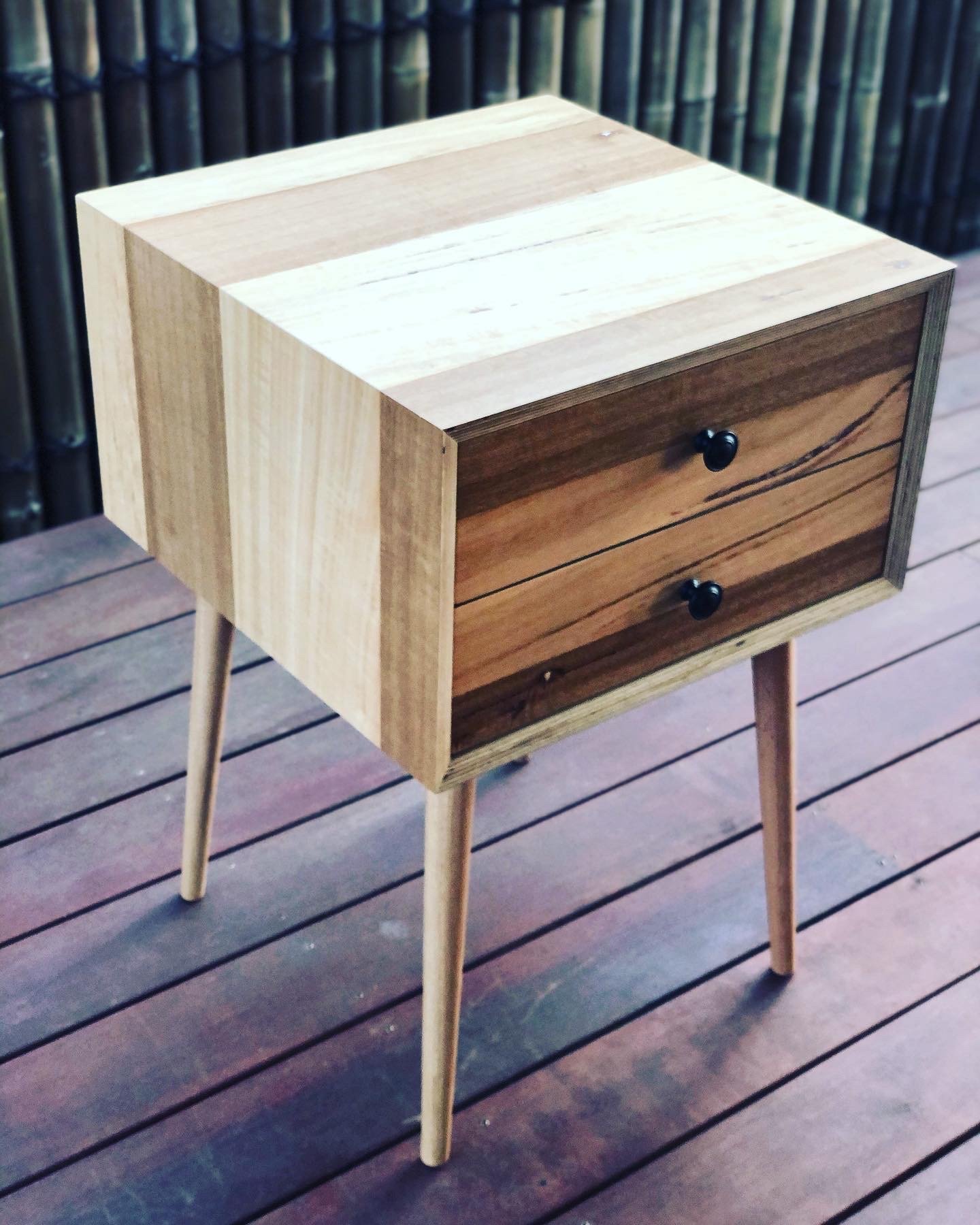 Using the NFG Blackbutt veneer in our Strataply range, Marcus built this stylish bedside table complete with drawers all on his own! We think it's a fine example of just what can be achieved when using plywood to build a bedside table.
We hope we've been able to spark a few ideas for your bedside table project and have been able to guide you towards the perfect bedside table plywood. If you've discovered what you're after, head over to our online store where you can purchase almost every product we stock from the comfort of your own home. If your still on the fence you can check out some of our other blog posts, or get in touch with us via call or email.