This post is part of Plyco's Guide to Marine Plywood and discusses the four species of Marine Plywood available at Plyco: Pacific Maple, Eucalyptus, Gaboon Marine and Hoop Pine.
Being the "one-stop-shop" for Plywood means going the extra mile and putting in the hard work to create the most comprehensive range when it comes to all types of Ply. It's not enough to simply have a lot of Plywood but no real options within the various subcategories that come along with it. At Plyco, we've strived to create a lot of depth to our range, which is why, unlike many other Plywood retailers, our Marine Plywood collection has multiple options.
Why is it necessary to have so many different options for Marine Plywood? Well, here at Plyco we believe our job is to serve every need possible, which includes offering products with different looks, different grades, and different prices. This philosophy means if you need resources for a project you'll find something to match your needs at Plyco.
We offer 4 types of Marine Plywood, and to easily explain each of them we've put together this blog post so selecting the right sheets is a breeze.
Pacific Maple Marine Plywood
Our Pacific Maple Marine Plywood is a great entry point in the Marine collection. It is the cheapest of the 4 options on offer and the perfect solution for a number of applications. We'll often see customers purchase Pacific Maple when they know there's a chance of it being exposed to moisture, but it won't be sitting outside or in "the direct line of fire". It features a B-Grade front face and is manufactured to a British Marine Standard. Created using a selection of mixed hardwood species, this product is a great option for cabinetry in places like laundries, or outdoor builds that will be undercover and mostly protected from the elements.
Eucalyptus Marine Plywood
The next step up from Pacific Maple is the Eucalyptus Marine Plywood. This option is just a tad cheaper - there's literally only a few dollars difference between the comparative thicknesses - but brings you the beauty of a Eucalyptus finish. Eucalyptus has a presence throughout most of our collections at Plyco, and there's a very good reason for that. Customers love it! Whether it's the gorgeous natural finish or the fact that it's 100% Australian made, many people from all different areas of construction and woodworking choice Eucalyptus. Something to bear in mind when purchasing Eucalyptus Marine is that there are thicker and thinner options in Pacific Maple Marine. Eucalyptus offers thicknesses of 6mm, 9mm, 12mm, 15mm, and 18mm, while Pacific Maple has the extra 3.6mm and 25mm options available.
Gaboon Marine Plywood
While the Pacific Maple and Eucalyptus Marine Plywood sheets are in a similar range, Gaboon Marine Plywood is a significant step up in all facets. Gaboon is a premium lightweight Marine Plywood, featuring an A-Grade face and B-Grade face, a serious step above from the previous two options mentioned. The upgraded faces provide two things; a beautiful architectural look and an enhanced ability to handle submersion in water. Both of these qualities actually combine to make it a great substrate for boat building.
Handling water with ease is an obvious positive, but you're going to want your boat to actually look good too, which Gaboon Marine Plywood is a perfect fit for. Because this boasts upgraded properties it does carry an increased cost, something you'll immediately overlook once you see how well the product performs.
Hoop Pine AA Marine Plywood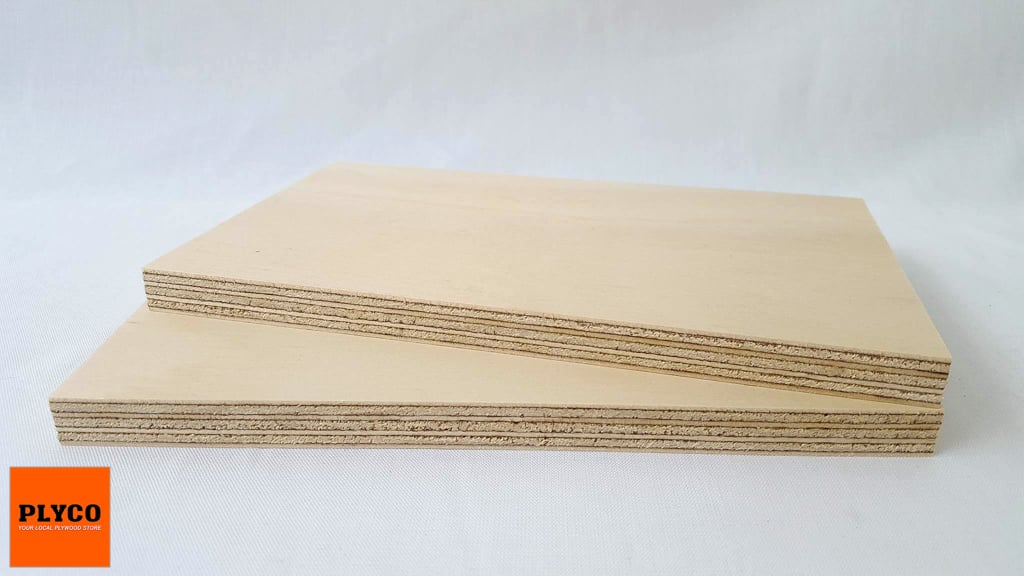 Finally, we've arrived at the "Rolls Royce" of Marine Plywood. Hoop Pine AA Marine Plywood is the gold standard when it comes to Marine Ply, and quite frankly, it's one of the standard bearers in general for Plywood overall. It's impossible to overstate just how incredible this Plywood is. If you want a product that looks stunning and is guaranteed to last under the harshest conditions, this is your best choice.
As the name suggests our Marine variety of Hoop Pine has an A-Grade face and an A-Grade back, meaning you quite literally cannot get a higher quality sheet. Manufactured to Australian Standard, it has an F14 stress grade allowing it to be used structurally and is Super E0 rated, meaning it has the lowest emission rating possible. All of these fancy features combine to make this the Marine Plywood for boat building, dock building, and basically anything that needs strength.
These are the 4 types of Marine Plywood available at Plyco, and each of them can be purchased from our online store. If you're still looking to learn more about Marine Plywood before making a purchase we suggest checking out our Top Marine Plywood Properties blog post for more information.