This post is part of Plyco's Guide To Plywood.
When you start thinking about where to buy the plywood for that project you've been wanting to build, it's common to think of Bunnings plywood as your go-to plywood supplier. This is only natural, after all, Bunnings is an Australian institution. However, while you might think about picking up some plywood from Bunnings is the best and easiest choice, you might want to pump the brakes a little bit. With a bigger range of products, expert knowledge and unmatched convenience, we've found that it's not long before everyone from DIYers to Architects start building with Plyco plywood.
A Greater Range of Plywood
The first thing you'll notice if you browse Plyco's plywood range and then the Bunnings plywood range is that here we have a much more diverse and comprehensive lineup. At Bunnings you'll get a few of the common faces popping up, like Bunnings Marine Plywood and Bunnings MDF, but you won't find any of the more advanced products that we stock at Plyco. Beautiful architectural sheets like our Decoply or Spotless Laminate are nowhere to be found in the Bunnings plywood catalogue.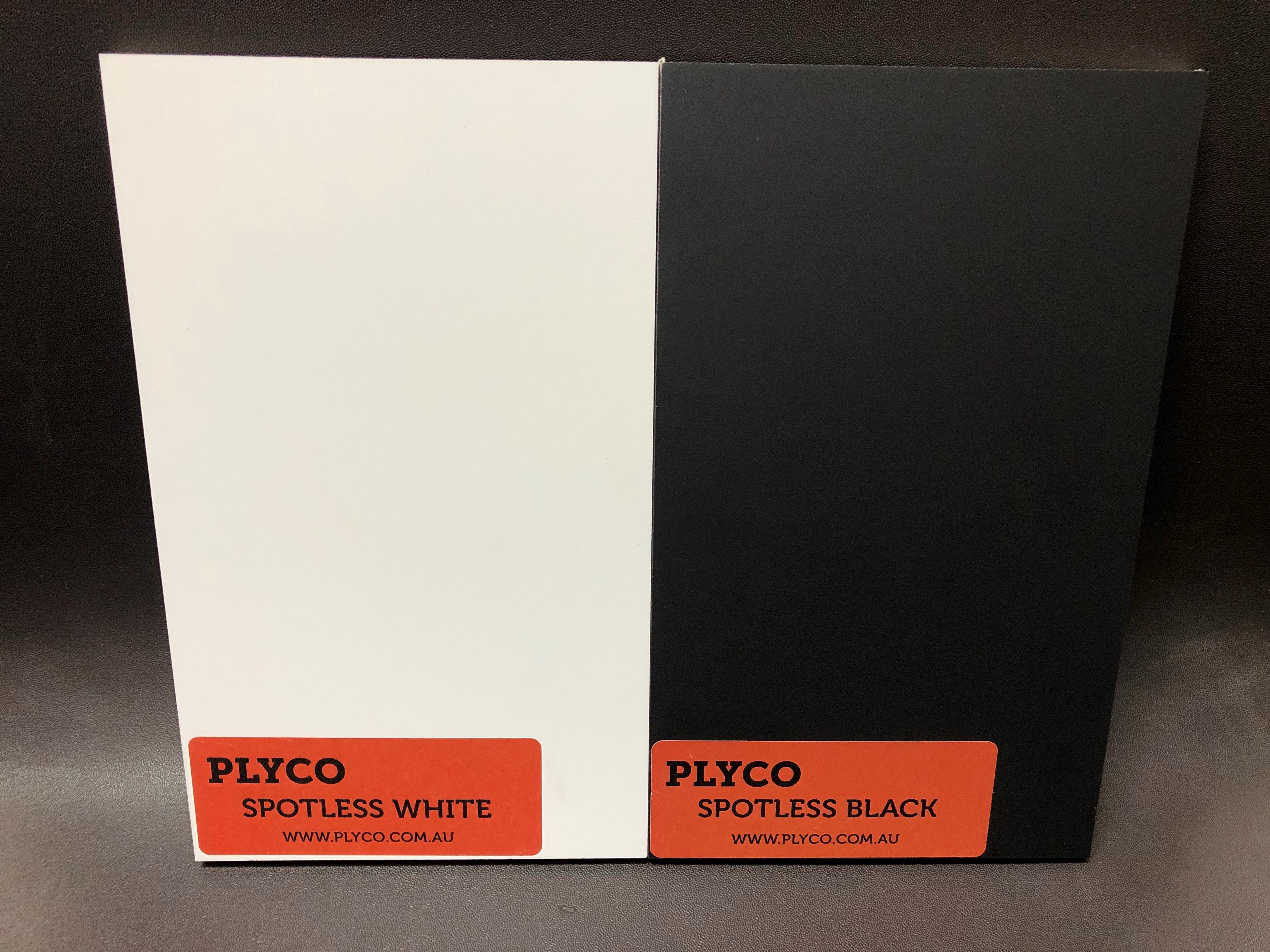 Plyco's exclusive Spotless Laminate in matte Black and White
Plyco is able to offer these unique and top of the line plywood products because plywood is our speciality. We live and breathe plywood. It's our life here. Bunnings, on the other hand, sell dozens upon dozens of other things and as a result are not able to dedicate the time and care to make a comprehensive plywood range. We have identified every possible plywood need and attempted to cater to them in multiple ways, which means when you're standing in your local Bunnings disappointed you can't find the exact thing you need, it's probably sitting in Plyco's showroom just waiting for you. Whether it's laser plywood, laminated plywood, construction plywood, and everything in between, our vast range has what you need.
Australian Grown & Manufactured
Within Plyco's catalogue, you'll find a wide selection of plywood sheets sourced from Australian grown timbers. While Bunnings does stock some Australian plywood, you'll find a greater range of species, sizes and thicknesses for Australian plywood here at Plyco. Products like our CD Structural Plywood (sourced from Victoria and New South Wales) and Hoop Pine (grown in Queensland) offers an excellent way to buy local and support Australia's timber industry.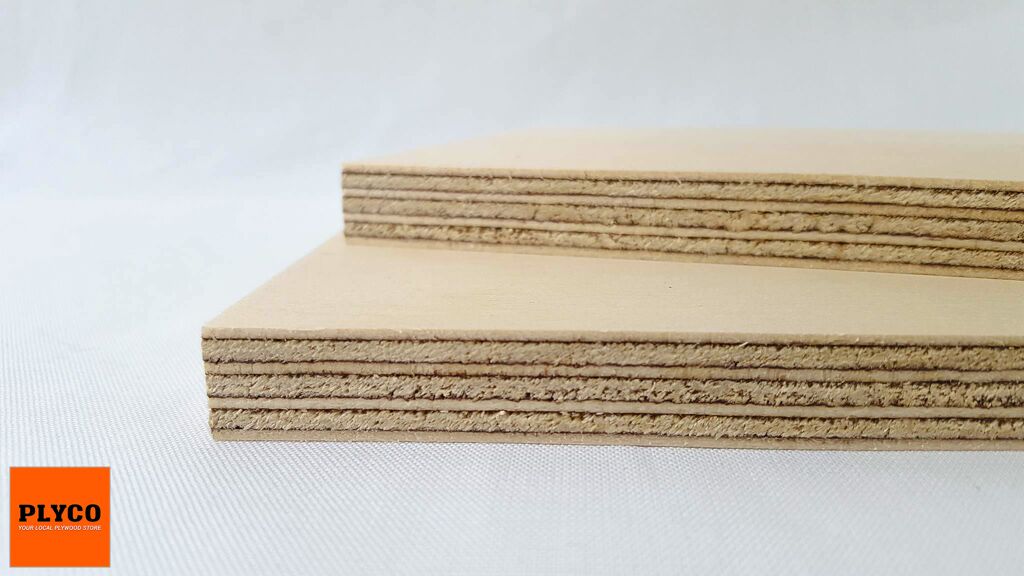 Plyco's Hoop Pine AA Marine Plywood
Unique to Plyco is that we also carry a range of Australian made plywood, manufactured right here in our Melbourne warehouse. Stunning, specialty plywood panels like our Flexiply, Laser Plywood and Plywood Veneers are all pressed on site by our plywood pros. As manufacturers of our own products, we can ensure supreme quality and know its exact capabilities when used for your project.
Superior Quality Plywood
You'll also notice that the quality of Plyco plywood outclasses Bunnings plywood in the quality department. The type of plywood stocked at Bunnings isn't going to even scratch the surface of the high-quality sheets at Plyco. You only need to look at our Premium Birch Plywood and compare it to any of their options to see that they're in two completely different ballparks. The wood you'll find at your everyday Bunnings might be suited to your needs if you're doing something incredibly minor, but for anything serious, Plyco's plywood can't be beaten.
Expert Advice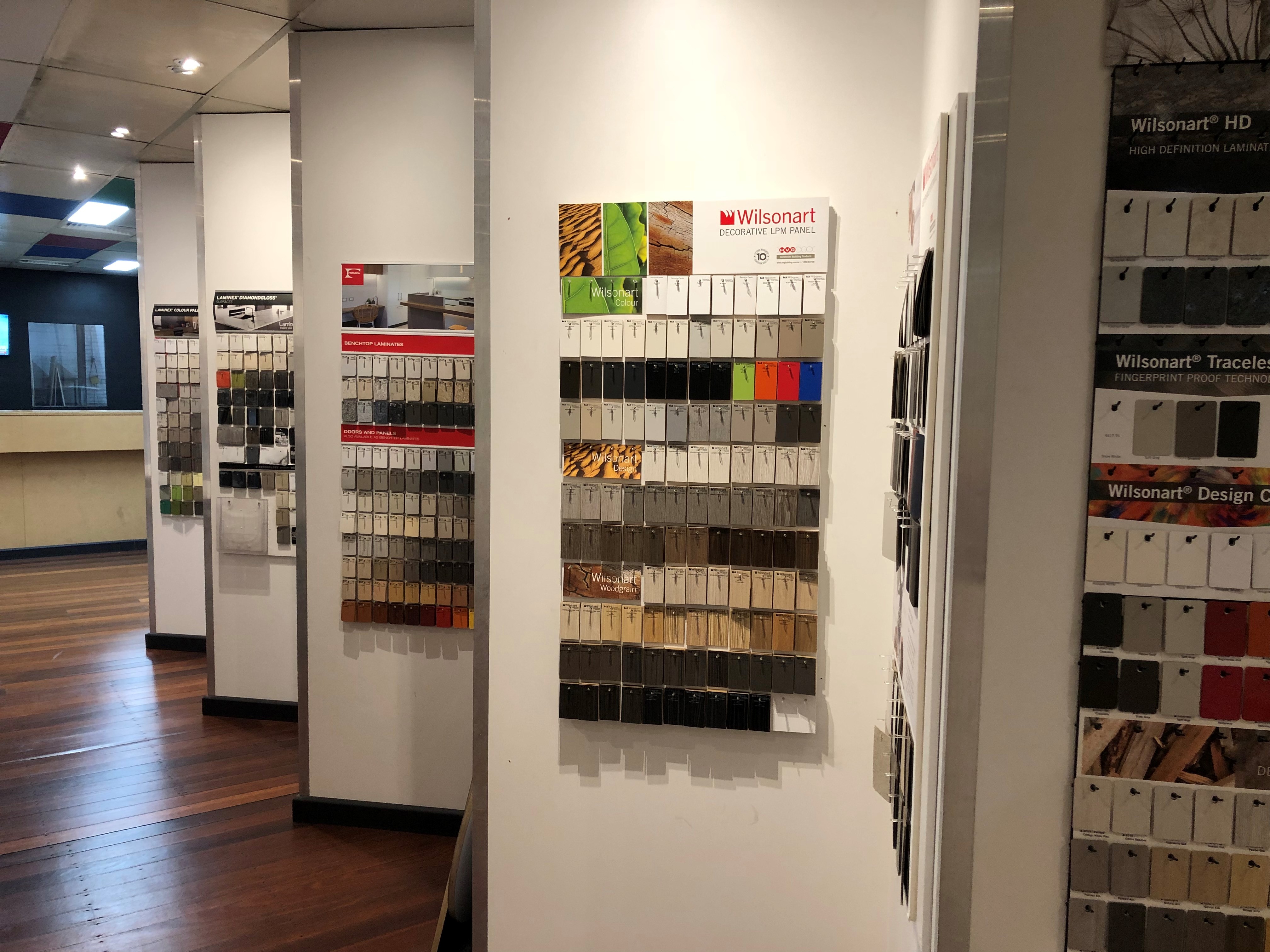 Plyco's Fairfield Showroom
We know the feeling of walking into one of Bunnings' hundred stores, not finding a plywood expert and searching for hours for a plywood product only to find it isn't there. Whether you walk into a Plyco showroom, call us over the phone, or send us an email, you can be assured that you're speaking with a plywood professional. As boat builders, cabinet makers, joiners and shopfitters by trade, we've bought, built and been around the products we sell for decades. At the end of the day, when you buy from Plyco you're joining a tribe of Architects, Builders, Educators, Manufacturers, Students, Designers and DIY Warriors from all around Australia who are pursuing the timeless craft of completing a woodwork project with our hands.
Superior Convenience
While there are a few other plywood competitors around, none of these alternatives has as comprehensive a range of plywood as Plyco and not a single one of them offers an all-inclusive online shopping option.
We find that when customers consider the facts that shopping at Plyco gives you greater variety and higher quality, all while still being cheaper, they never go back to buying their plywood at Bunnings! Not to mention, with the addition of our online store and Australia-wide shipping you can shop from the comfort of your own home without ever needing to lift a finger. Whether it's a simple DIY job or a huge commercial project, no matter how you look at it, Plyco is the number one plywood supplier in the country.
Have any questions about Plyco delivery options or freight estimates? Head to our Frequently Asked Questions page to discover more about our specialty products and services.