2020. What a year it has been. Amidst arguably the most challenging time in recent memory, plenty of significant events have happened at Plyco in the past year.
Listen to this article.
As the year began, the Plyco team were looking forward to continuing to deliver a premium service, setting the industry standard for how you purchase your plywood. However, the well-laid plans we had set for the year were quickly thrown into disarray as the COVID-19 pandemic shook the world. Despite those setbacks, Plyco has persevered and still managed to evolve and build upon a number of aspects to further increase the customer experience.
To celebrate the conclusion of a crazy and exhausting year, we're going to take a look at the past 12 months in Plyco's year in review.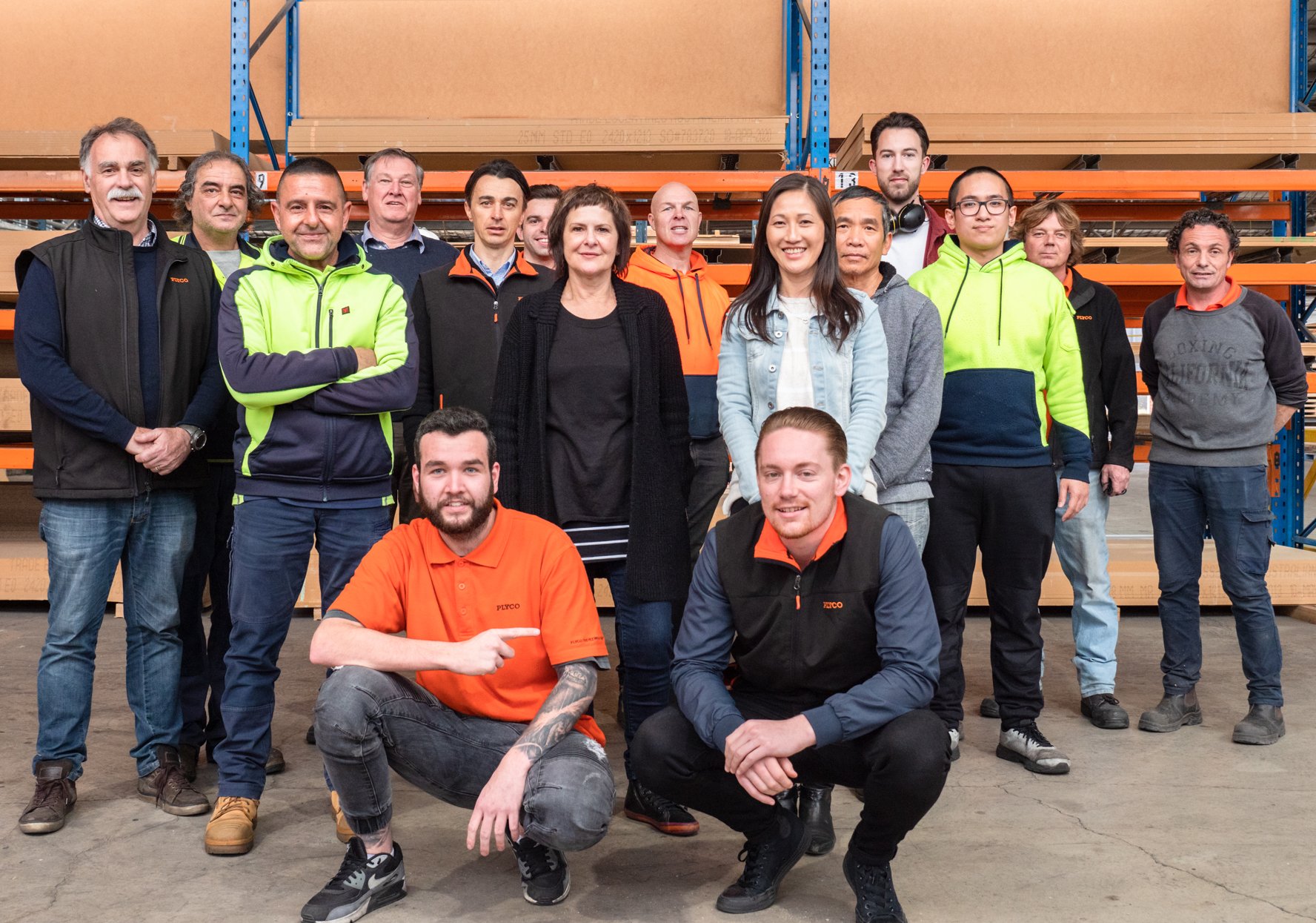 The Plyco Fairfield team.
COVID Craziness
Just as we were starting to settle into the year and get some big plans rolling, all of a sudden everything had been turned upside down. The COVID-19 pandemic had well and truly reached Australia, which resulted in Plyco needing to change a few aspects of how it operated. During the initial wave we started to implement strict social distancing measures between staff as well as customers, and ramped up hygiene efforts, such as making masks and hand sanitiser readily available.
Everybody breathed a sigh of relief once the initial wave seemed to have been brought under control, but as we're all aware, things took a turn for the worse here in Victoria. While other Australian states kept their numbers under control, cases here, particularly in metro-Melbourne, started spiralling out of control. So, just as it seemed like it was going to be business as usual again, we were thrust into even more uncharted water.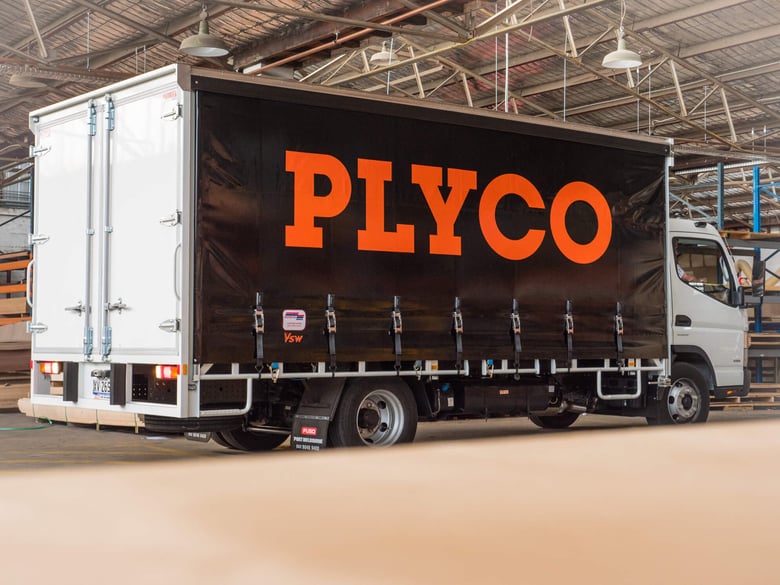 The addition of a new truck to Plyco's fleet helped handle the surge in deliveries during Melbourne's lockdown.
With the second wave we were introduced to a much stricter lockdown. While the first COVID period made some slight alterations to our operations, things mostly stayed the same. Customers were still welcome to browse our showroom and purchase products in person, while all of our staff were able to continue working onsite. Unfortunately, the rapidly rising case numbers required a more drastic lockdown, drastically affecting Plyco's day-to-day operations.
Thankfully, Plyco was able to continue operating during this period, albeit very differently to what customers were accustomed to. Firstly, many of our staff had their usual work schedules radically shaken up. While we were fortunate to not have to cut anybody's hours, many of our office staff were required to adapt to working from home. Our sales reps who would normally spend their time meeting face to face with our wonderful customers, now found themselves scheduling Zoom calls and Google Hangouts.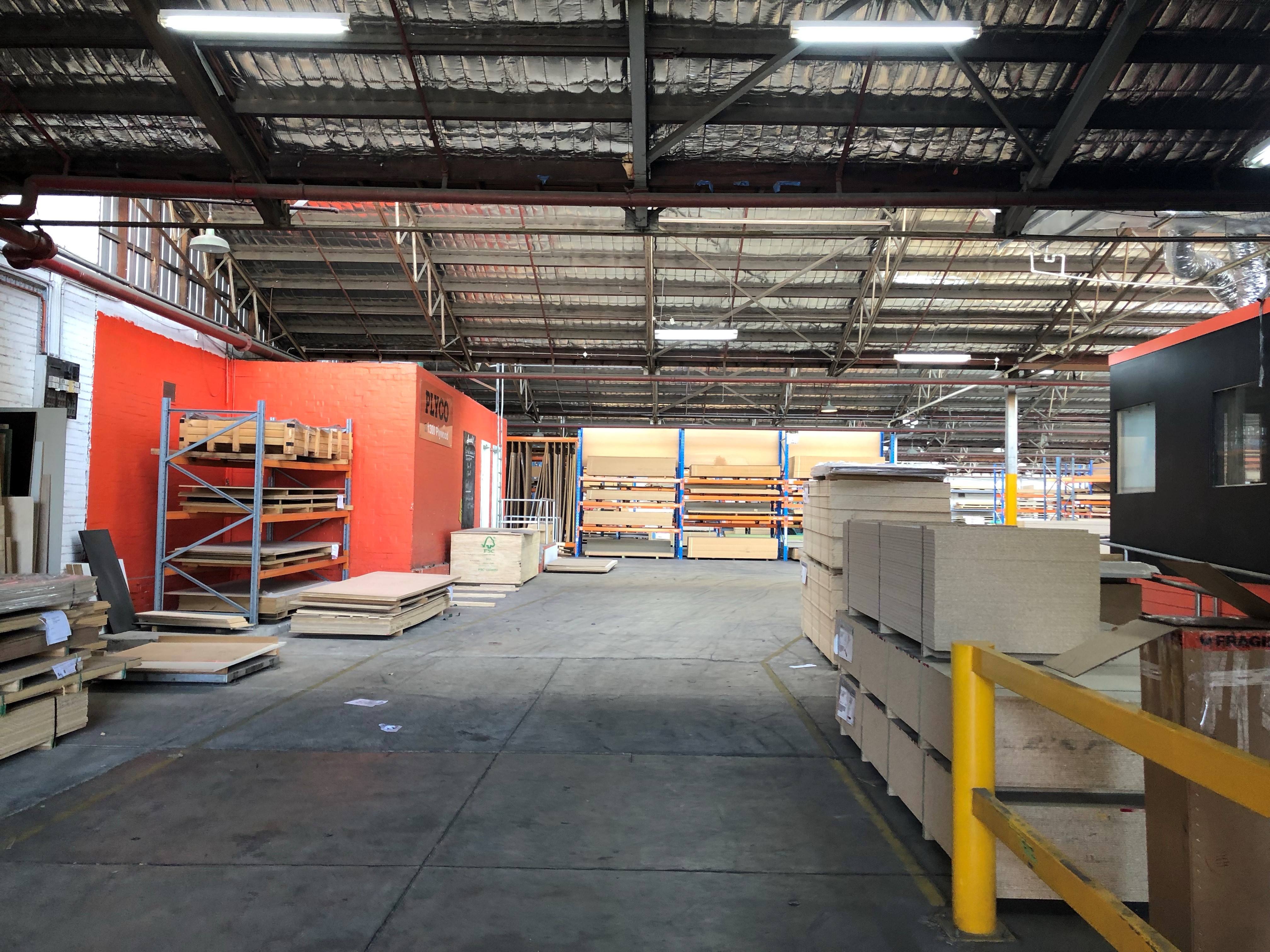 Plyco's Fairfield store was a lonely place during COVID.
The first of the major changes our customers would have noticed was they weren't allowed on site. The showroom was completely off limits and purchasing sheets in person was now banned. If you wanted a sheet of plywood during this time you need to pre-purchase and wait to be told it was ready to be picked up before heading to our store. Thankfully, customers were also able to purchase products online via our store and have it delivered to the address of their choice. Our cutting-edge website truly turned out to be a major asset in this period. While many in the industry struggled to play catch up in the online shopping space, Plyco was well-equipped to pivot to a primarily online business. Our goal to revolutionise the way people purchase plywood all those years ago really paid off here!
For those who were still picking up their sheets in person, strict rules were in place. Every customer was required to sign in before a staff member would greet them, and a maximum of two customers were allowed in the warehouse at one time. It was a bit of a battle to get every Plyco customer used to this new way of operating, but by the end it almost started to feel natural. Fortunately, the extreme lockdown measures worked and we were able to see out the end of the year operating normally. Well, as normal as things can be at this point in time.
The Next Evolution of Online Plywood Shopping
Despite all of the curve balls COVID managed to throw at us, Plyco was still able to introduce many new elements, the most noticeable of which is our brand new website.
When the Plyco website was launched in 2017 our aim was to completely change the way you buy plywood. In the modern world you can buy pretty much anything online, but somehow this was still missing from the plywood industry. Even major players like Bunnings weren't offering a convenient way to purchase your plywood from home. While the Plyco website was still on the cutting edge of the industry, after more than three years things start to become a little dated, and as they say, if you're not making moves you're standing still!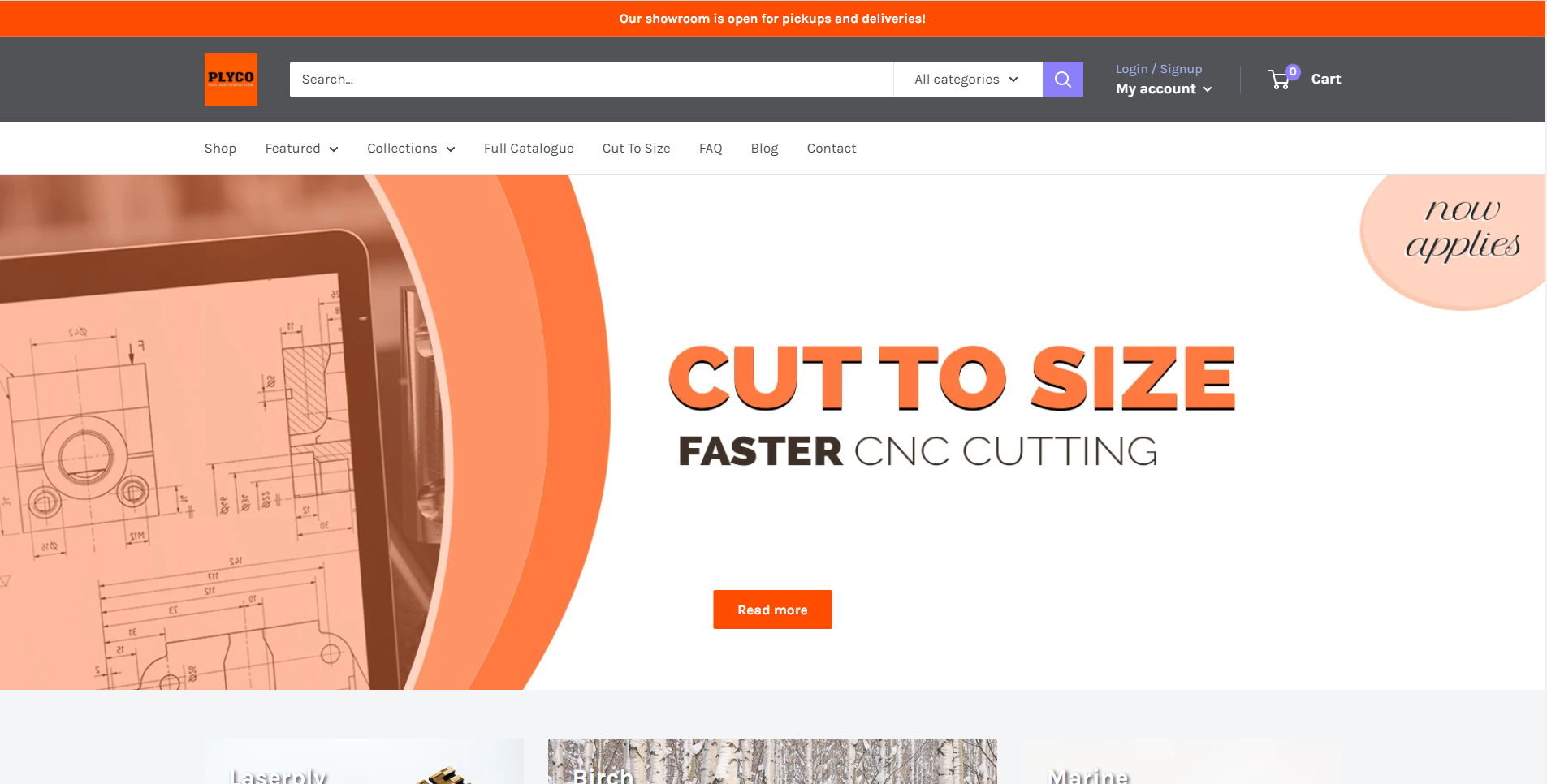 Plyco's re-designed store
At the beginning of November we launched our brand new website. We overhauled its visual design with an even cleaner layout that is simple and easy for customers to navigate. Alongside this was brand new product photos of every plywood product Plyco stocks. In the past three years we've added so many new product ranges to our collection that the visual cohesion of our product pages was starting to be lost, so we undertook the massive task of getting brand new photos of everything.Additionally, to make shopping a lot easier the website is now faster to load, offers estimated shipping prices for your area, out of stock products can be pre-ordered, and both PayPal and Google Pay options were integrated.
With this refresh our goal was to make the Plyco experience even easier, and in our humble opinion, we believe we succeeded!
New Products
Roughly halfway through 2020 we added a surprising new member to the Plyco team: MicroPanel! A close relative of Laserply, MicroPanel is a series of MDF panels that are compatible with laser cutters. Laser cut MDF had long been a common enquiry at Plyco, but for years our answer was that using standard MDF wasn't recommended. However, the experts in our manufacturing plant got to work and developed MDF boards that could be cut smoothly by laser, harnessing some of the most popular veneers we offer. This Plyco-exclusive range continues to cement Plyco as the one-stop-shop for all of your laser cutting needs.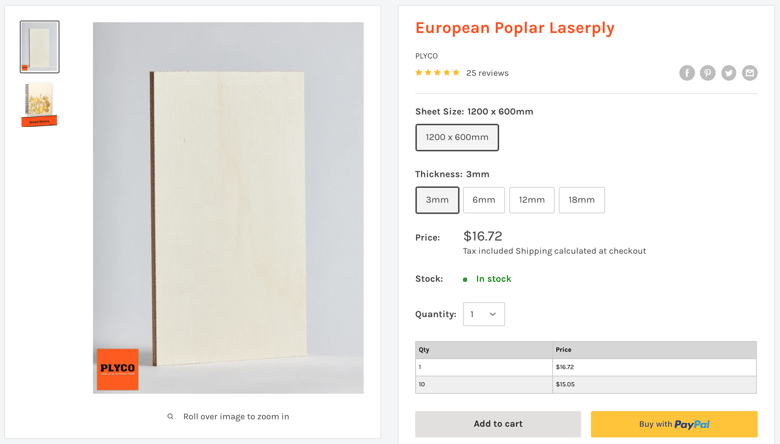 Plyco's new product photos and redesigned product page.
Expanding Plyco Fairfield
Plyco has been growing steadily year after year, adding more staff and expanding our scope constantly. As a result, we found ourselves with a dilemma — we've been running out of space at our Fairfield store! To handle this and keep everything moving smoothly, we started transforming the Fairfield store during the COVID period. The work from home measures actually turned into somewhat of a blessing in disguise, as it allowed us to make changes without proving to be too much of a disruption to anybody's regular work day.
The most important updates for our customers have been in our showroom. While it won't look too unfamiliar to those who have walked through the doors of Plyco Fairfield, it received some much needed TLC. The showroom was given a fresh coat of paint, bringing an updated look and some new life to the space. Additionally, our cutting whizz, James, has whipped up some new product displays that you'll find adorning the walls of the showroom. While it's still the Plyco you know and love, we think these adjustments will greatly improve the in-store customer experience.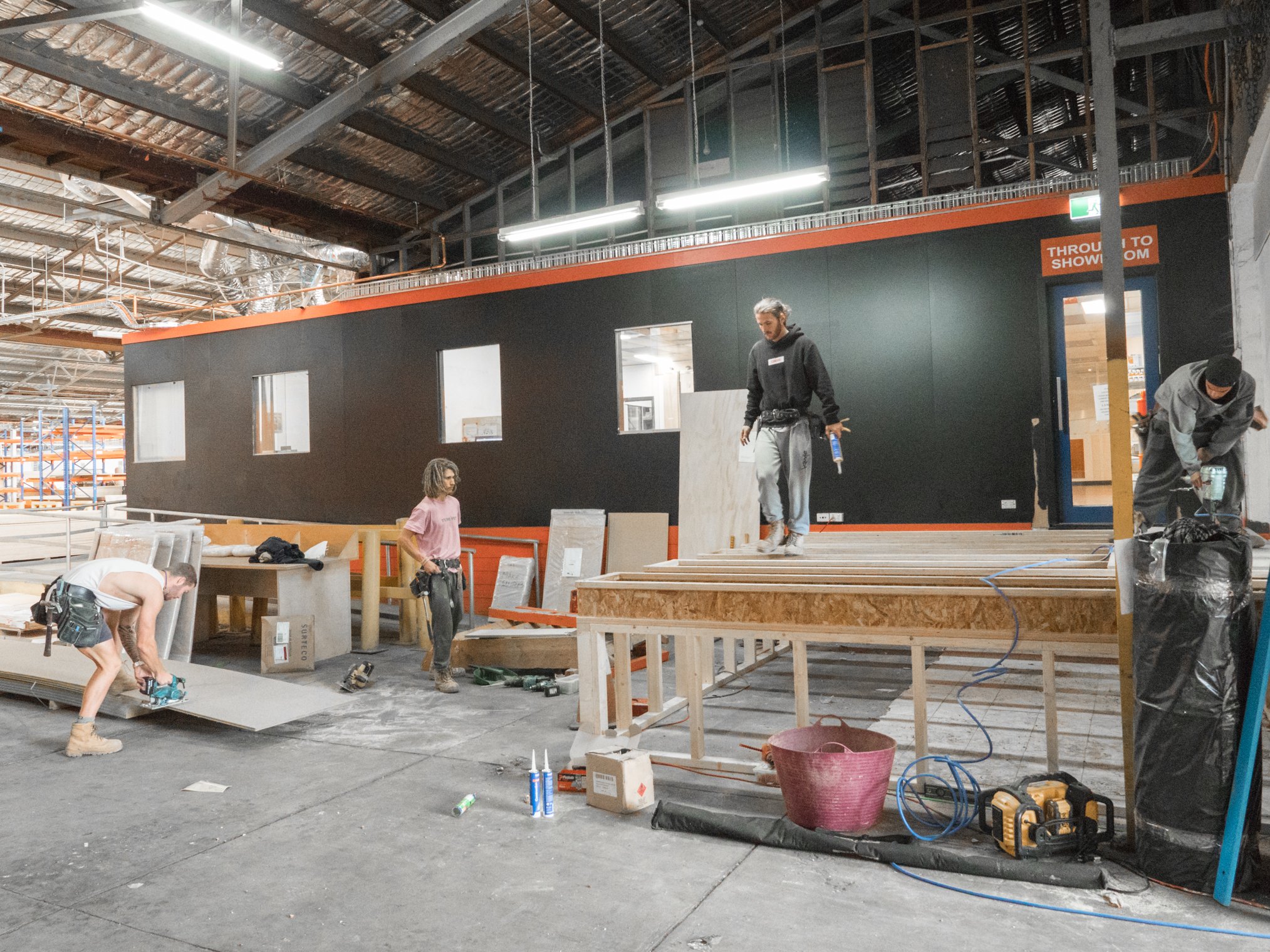 Behind the scenes changes have been happening too. A new extension to the office area was installed, giving all of our workers some much needed space. Additionally, a brand new storage and packing room has just been completed. In the past, our stock of Laserply and Strataply sheets were forced to sit in a rather narrow hallway, but with this entirely new room we've freed up considerable amounts of space. Many customers who come into the store enjoy browsing through these sheets, mulling over which Laser Plywood product to go with and which sheet perfectly matches the aesthetic they're looking for. In our new stock room doing this is a much more enjoyable experience, allowing customers to browse to their heart's content!
Plywood Sales and Competitions
One of the most exciting things we get to do at Plyco is run creative competitions and sales that greatly benefit our loyal customers. We're always brainstorming new ideas, and despite the year's plans being thrown into disarray, we were still able to run a number of major events.
The festivities kicked off in mid-March, as we ran a 72-hour flash sale on all of our plywood products. For a three day period you could buy anything in our store for 15% off, which was met with an astounding reception — the sale surpassed even our wildest expectations! It also turned out to be convenient timing, as the first COVID wave was about to hit. The incredible response to this sale ensured that everybody at Plyco was well and truly busy throughout this time.
Next up, to celebrate the launch of our brand new MicroPanel range we kicked off a month-long competition throughout June. Each week during the month we gave away an entire pack of MicroPanel, our new laser cutter friendly MDF, valued at over $60. All customers had to do was follow Plyco on Instagram, like that week's competition post, and then tag a friend in the comments. Each comment acted as a new entry, so scouring your list of friends on Instagram was highly encouraged.
In the following month, things got even crazier. Plyco turned 17-years-old on July 1, so to celebrate we held a massive birthday bash, culminating in a sale. A one-day-only 17% off store-wide discount was applied, and boy did a lot of you come out to celebrate with us! Much like our flash sale, this sale was right before another set of hard lockdown rules came into place, but once again ensured we were busier than ever.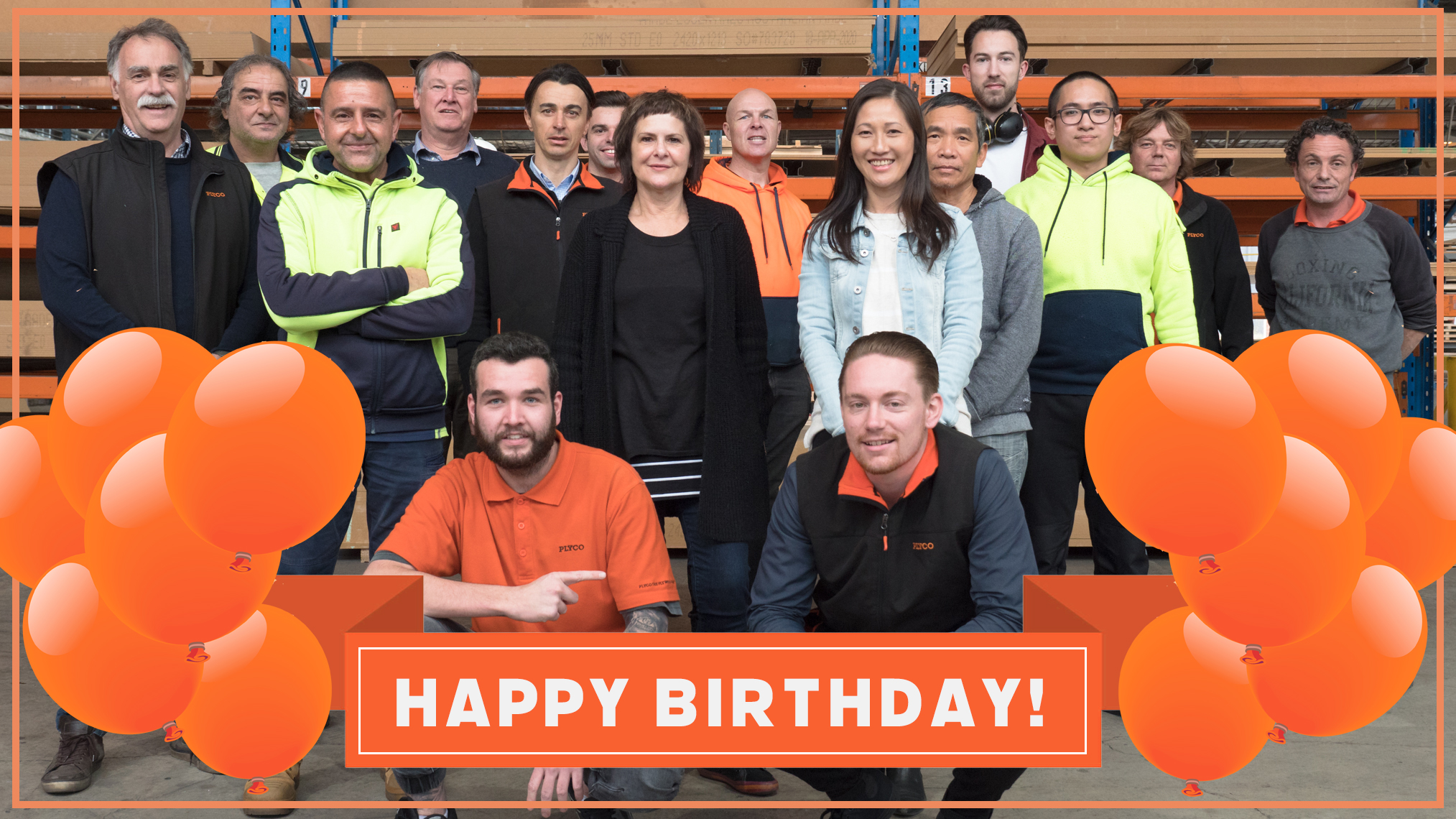 To round out the year, we also held a sale and a competition in the final months of 2020. Throughout November, customers had the chance to win a $500 Plyco gift card if they purchased an eligible Exterior Plywood product. This competition was designed to coincide with Victorians being able to get out of their homes again, with the lucky winner getting to go on a Plyco shopping spree. Finally, our Birch Plywood Christmas sale gave customers the chance to purchase any Birch Plywood product at a 15% discount — this included Birch substrate products like Decoply!
2021 and Beyond for Plyco
2020 has been a major year for Plyco, but the fun and excitement doesn't stop there. We've been cooking up plenty of new ideas to make 2021 even bigger. More sales and competitions are being brainstormed constantly, and we'll have announcements to make about some big additions to our product lineup. We'd like to thank each and every customer who has supported us this year. Without you we wouldn't be able to offer the services and products we do, or expand and innovate what is possible in the plywood industry.
If 2020 has taught us anything it's that you should expect the unexpected throughout the course of a year, so make sure you stick with Plyco throughout 2021 to see what incredible things happen next!