Laser Grade Plywood. Fuel for the daring designer, handicraft creative and innovative school technology department. This guide is Plyco's introductory overview of the materials, machinery and processes used in the use of this incredible collection of products.
There has never been a better time to be part of the DIY crafts movement. Laser cutters have positively burst onto the scene, skyrocketing in popularity while becoming more affordable and packed with even more features. Not only are laser cutting tools more accessible than ever before, but the materials to get the most out of your creativity are also becoming easier to find and purchase.
The team of Plywood experts here at Plyco know that the needs of a Laser Grade Plywood are far different to other forms of Plywood, so we've put together the most comprehensive range in Australia, and quite possibly the entire world! However, getting your start in the world of Laser Plywood can be both daunting and confusing (how on earth am I supposed to make one of these clutch purses out of Plywood?), so to make things a little easier we have created this information hub. Here you'll find links to a number of blog posts that will help you get familiar with Laser Plywood and teach you everything you need to know so you can get your start on crafting and creating!
Here's what we'll cover:
Laser Plywood (or 'Laser Cut Plywood' as it's often called) is a special type of plywood that has been specifically designed and manufactured to work optimally with laser cutting machines. The most important thing to know about the Laser Plywood we manufacture here at Plyco is that they're all made with the right type of formaldehyde-free glue. Using an incompatible glue will make the sheet you're attempting to cut simply burn, or not even cut at all.
Second, Laser Plywood is designed without any core gaps. This is done to prevent air bubbles arising in the wood, which inevitably leads to cracking and an unusable piece of Ply! Third, another enormous difference between Laser Plywood and regular Plywood is the density. In feeding a regular sheet of Plywood through a laser cutter you'll soon find that it is likely too thick, unable to make the intricate cuts, etchings, and designs that you have programmed for it.
When we started designing and manufacturing our Laser Grade Plywood range, we knew that the most important properties for each product were those that would ensure the laser cutting machine would deliver the cleanest cut every time. After all, Laser Plywood needs to work harmoniously with the laser itself!
With this in mind, we manufacture all of our Laser Plywood options with no core gaps, the perfect formaldehyde free adhesives and the right density. These three components are crucial in making a Laser Plywood that's safe to use, will cut like a knife through hot butter, and won't leave you disappointed with the results.
All Plyco's Laser Grade Plywood panels are available in handy 1200 x 600mm panels. A range of thicknesses are available for all our plywood species, ranging from our 1mm Natural Bamboo Laserply up to our 6mm European Birch Laserply.
At Plyco we also offer a cut to size service for our range of Laser Plywood, offering custom sheet sizes tailored for the bed size of your machinery. Using our handy cut to size order form on our website you can go into intricate details about how exactly you want your Laser Plywood sheets cut, and our all-star team of Plywood experts will make it happen. Plyco's cut to size service generally takes three to five business days.
Perhaps the greatest property of Laser Grade Plywood is its versatility; it would take days to list all of the uses, applications, and creations possible with the collection. In fact, nearly every day a customer shares a photo on social media or comes in to show us some new, out of the box idea that we've never seen done before. It sounds cliche, but what you can create with Plyco's Laser Plywood is literally only limited by your imagination!
With that said, some common uses for our Laser Plywood Panels include jewellery, cake toppers, signage, clocks, and lamps. We've even seen one customer make stunning handbags out of our Laser Plywood! Click above to view a showcase on some stunning projects our talented customers have created with our Laser Cut Plywood.
Getting your feet off the ground in the laser cutting and Laser Plywood game can be pretty tricky. Operating a laser cutter like the Emblaser 2 can be a daunting task when starting out, namely due to the number of factors to consider. These include the necessary safety precautions, workflows, programming and knowledge of the materials.
Because of the learning curve for beginners, there is often a lot of trial and error before you get your feet under you and feel comfortable with the process. We've found in these situations having a solid set of Laser Plywood designs and templates can be an immense help. You already have to learn so many new processes, that having a ready-made template to utilise when it comes time to make your first cuts is extremely comforting. While Plyco is yet to offer Laser Cutting templates, we can steer you towards some amazing designs that while help you on your journey to becoming a Laser Plywood legend.
Here at Plyco, we stock an extensive range of Laser Grade Plywood. With a wide variety of different looks, grains and textures, no matter the design or concept you have in your head, we'll have something the materials to help you actualise it.
Direct from our Melbourne manufacturing facility, the Australian grown selection of laser cutting materials include Tasmanian Sassafras, Queensland Walnut, NSW Jarrah, Eucalypt, Radiata and Hoop Pine. These are complemented by our carefully selected imported plywoods such as Fijian Cedar, Italian Poplar, Russian Birch, European Beech and East Asian Bamboo.
Top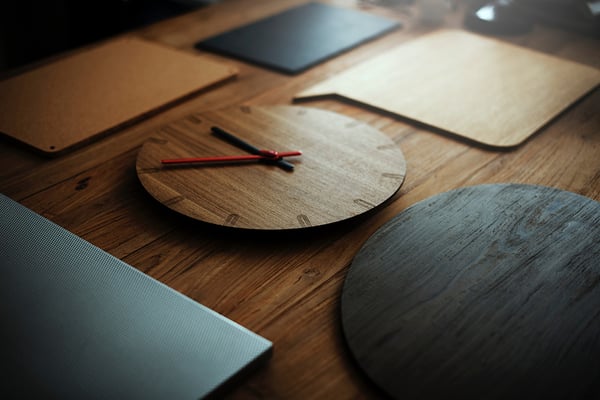 Knowing what type of Laser Plywood to use is only half the battle. In order to create amazing project, you'll also need to know the basic functions of your machine to understand its strengths and limitations. Favoured by schools, the most common laser cutter we see is a laser diode based machine such as the Emblaser 2 which operates by directing the output of a high-power laser through optics.
Luckily, wrapping your head around how a laser cutter works and how to use it is relatively simple, especially considering how high tech this piece of machinery is. With the ability to cut, etch, and make intricate lettering and designs, you can do so much with laser cutting, and Plyco is here to help you better understand these incredible machines before you dive in head first.
While both designed for cutting, CNC cutting machines and laser cutting machines are worlds apart. In fact, thinking the two are interchangeable could have disastrous results for your precious Plywood board! The most obvious distinction between the two is that CNC machines cut wood via physical contact, while laser cutters use a laser (as the name suggests). This key difference determines the type of plywood panels the two are capable of working with, as laser cutting machines require tailored materials with a specific density and thicknesses to attain the laser cut plywood shapes desired.
From our classic European Poplar to the more exotic Jarrah and QLD Walnut, choosing what Laser Plywood to buy can be one of the hardest decisions you'll ever make. While at first glance it may appear that the product's aesthetic is the only difference, the range of techniques available (engraving, etching, stamping or cutting) will uncover the unique advantages of each product. Thankfully, we don't expect our customers to buy every laser cut plywood panel to find the differences for themselves; navigate to our online sample request form and we'll deliver a free sample pack containing each of our stunning Laserply products.
Each and every sheet of our Laser Plywood products are available for purchase through our online store. Offering a wider selection of materials than your local Bunnings Plywood Store, this gives you the ease of browsing our entire selection from home, without having to make the trip into our showroom to see it in person. In addition to our online store, we offer both in-store pickup and ship Australia-wide. With a combination of proprietary trucks or third party courier vans and trucks, from Sydney to Scarborough there's a suitable delivery option for you.