This post is part of Plyco's Guide to Particle Board
What do you get when you take the strength and hard-wearing nature of a Construction Plywood and combine it with the elegance and beauty of a natural timber veneer. You get an almost perfect product, which also happens to be our Veneered Particle Board range.
It may sound too good to be true, but when Plyco's natural timber veneers are combined with our Particle Board it creates a product that is a serious all-rounder and without any significant flaws. Because we stock so many veneers (we have 9 available in our Particle Board range) we thought it would be a good idea to shine the spotlight on each of them, so you can find the perfect one for your project.
American Cherry
This veneer is light and bright in colour, which brings a vibrant look to any application as a result. It's recognisable from its golden brown colouring, reminiscent of American cherry trees, which is where the name is derived from. However, what stands out the most for this veneer is the extremely unique grain detail. American Cherry veneer utilises a figured grain detail that is vastly different to a regular grain detail. While the uninformed might be able to accurately name this unique aspect, it always stands out and provides a different appearance to your projects.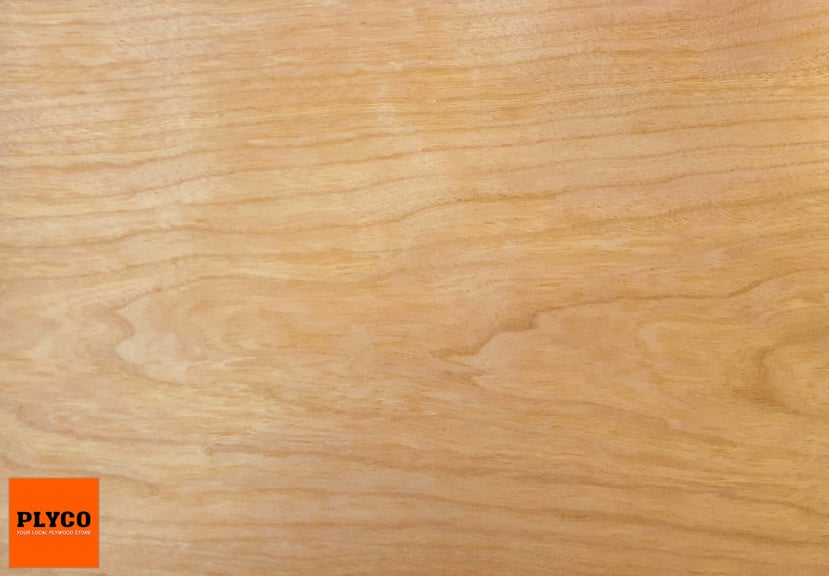 American White Oak
Sticking with the American theme, the next veneer is our American White Oak. As you may have guessed, this veneer derives its name and its visual characteristics from American White Oak trees. You'll notice that it's actually relatively similar in colour to the American Cherry, albeit a little darker and less vibrant. Essentially, it acts as a non-figured grain version and is perfect for those who like the colour but aren't huge fans of the unique detail. Instead, American White Oak features an extremely pronounced grain detail.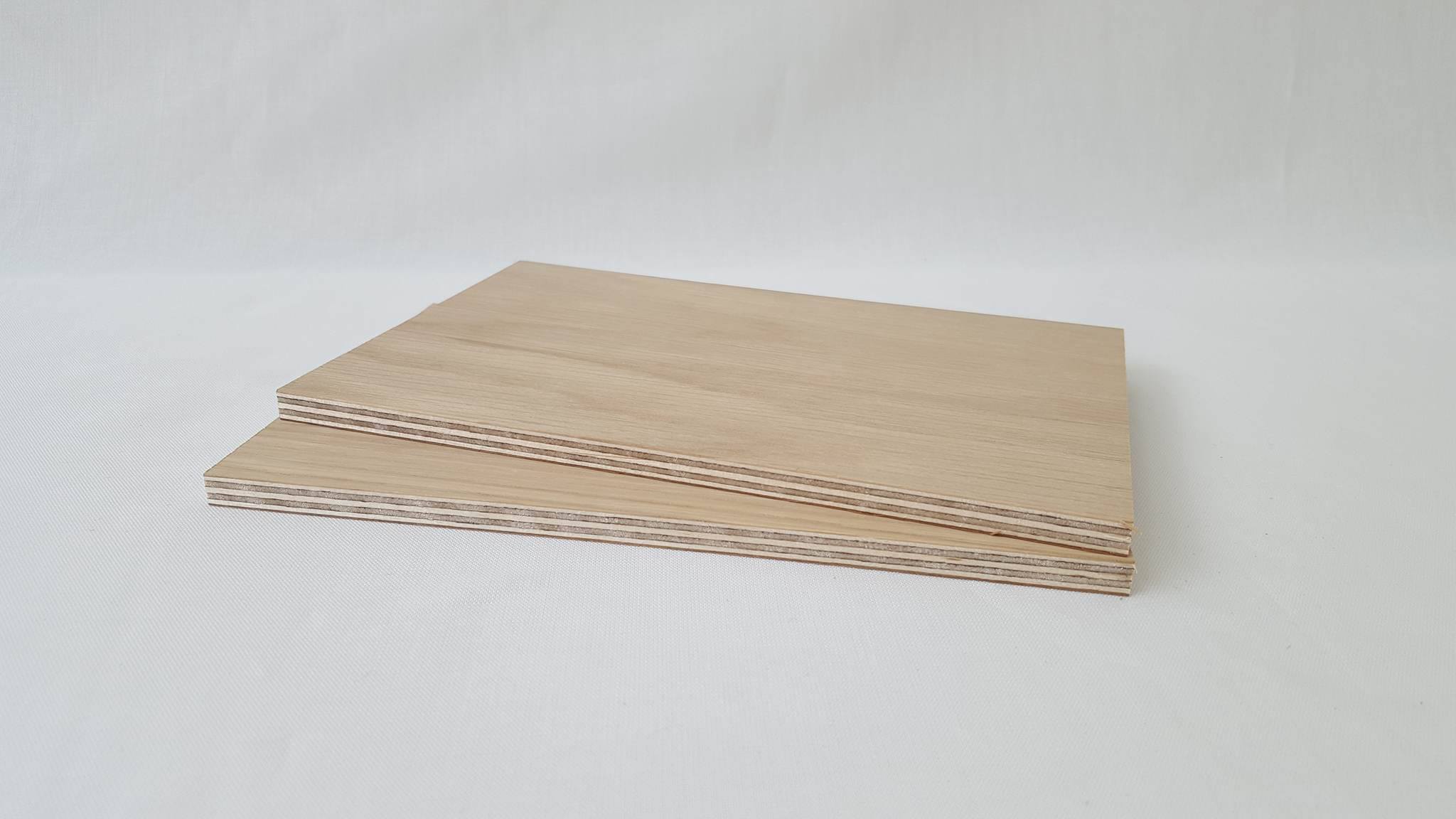 European Beech
Let's move away from America and across the Atlantic Ocean to Europe. Here you'll find beech trees aplenty; the origin of our stylish European Beech veneer. This is an extremely popular veneer thanks to the sandy-brown colouring. It's a unique colour that cannot be found anywhere else. The colour works harmoniously with the grain detail to create wavelike effects that ripple across each sheet.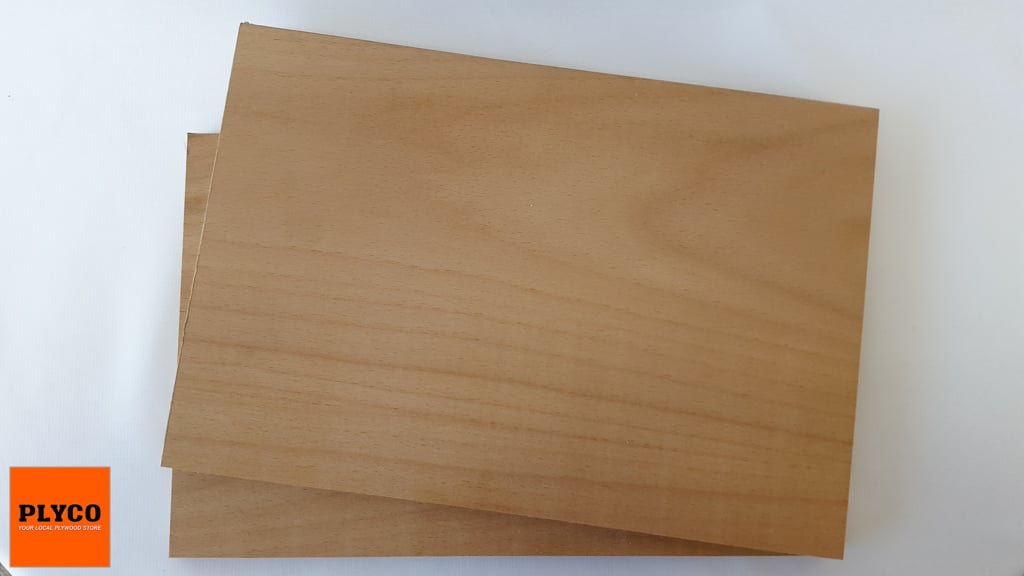 Jarrah
If you're looking for a veneer that is guaranteed to turn heads, look no further than Jarrah. The dark red colouring invokes earthy feelings, making it the number one option if you're trying to keep a natural and grounded feel to your woodworking project.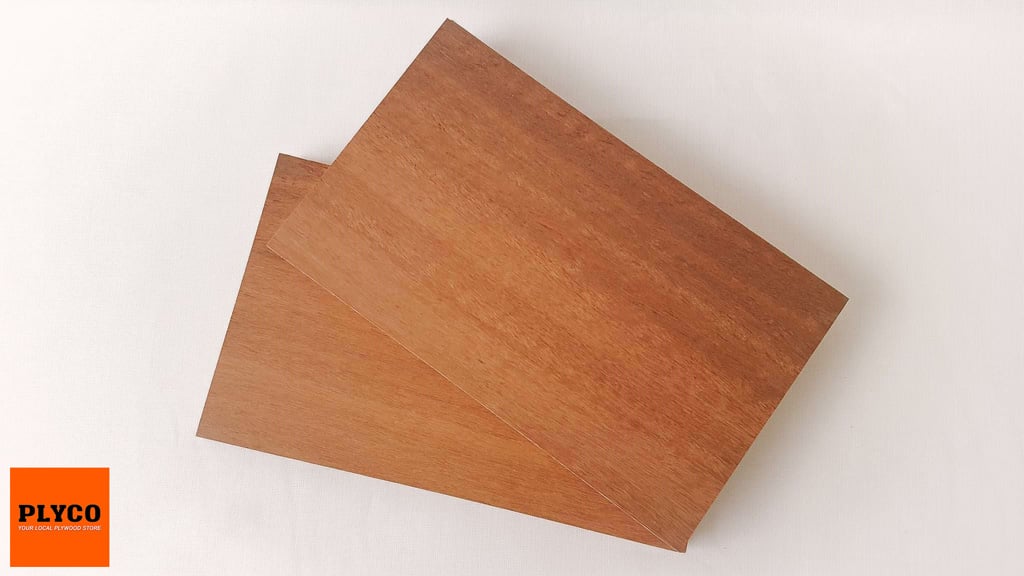 Radiata Clear
After something a little bit more laid back and subdued? Are the bold and unique tones of Jarrah and Beech an overkill for the project you're designing? Perhaps the Radiata Clear veneer is the choice for you. This veneer takes the tried and tested looks of our Radiata Pine and allows it to be pressed onto a sheet of Particle Board, giving you a light look that remains low key.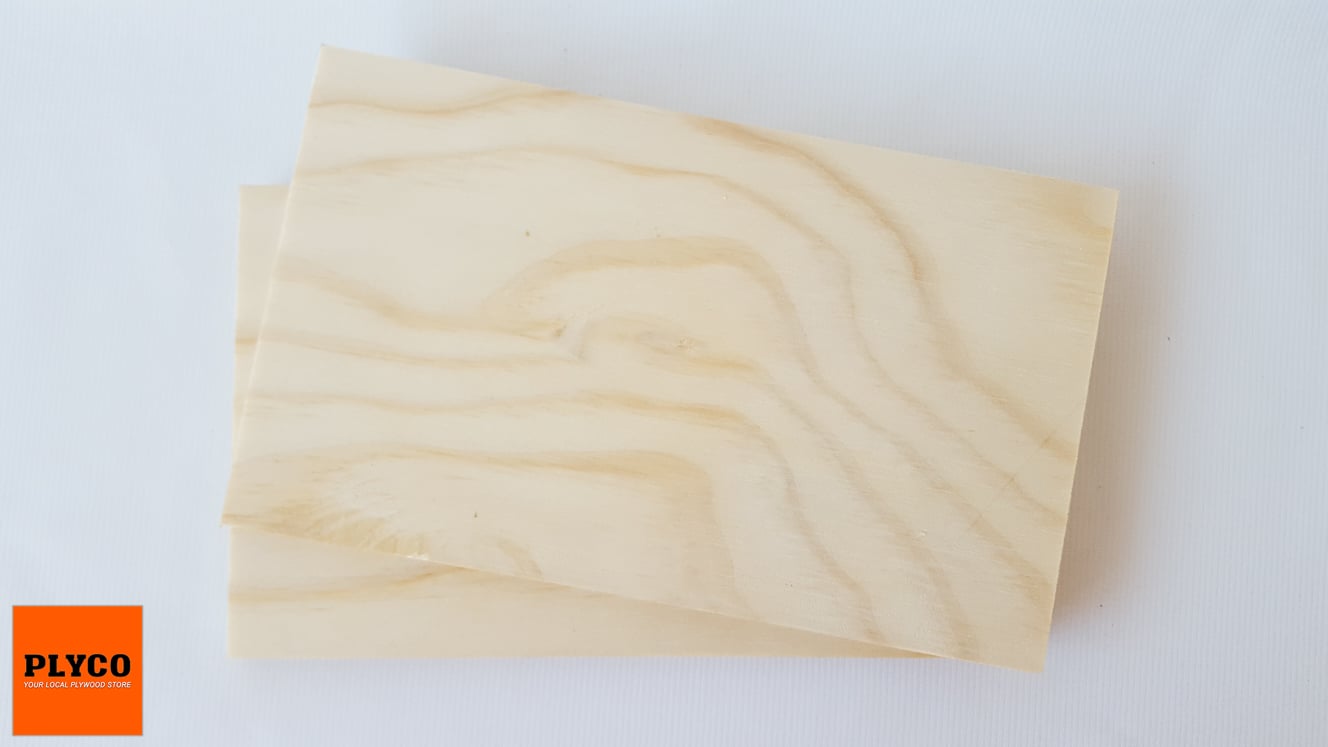 Rock Maple
Similar to Radiata Clear, the Rock Maple timber veneer is a no-fuss option. Bright, and almost white in colour, it's a very simple way to lighten up any room or application. The grain detail produces an effect much like waves of mountains, which helps set it apart from Radiata and give it it's own defining characteristics.
Sapele
Want to really stand out from the rest with your project? We suggest Sapele. It employs a brown colouring the straddles the line between dark and light, and almost appears as if it's the end result of combing our Beech and Jarrah veneers together. While the colouring alone would be enough to turn even the most critical heads, Sapele still as another trick up its sleeve; the grain detail. This grain truly needs to be seen to be believed, and we feel that the grain is what pushes it over the edge to be a truly incredible option.
Tasmanian Blackwood
After globetrotting around the world and paying visits to America and Europe, we're back home with a truly local veneer. Tasmanian Blackwood is a light brown veneer with splashes of dark brown thrown in with heavily emphasised grain detail. This a great product if you want your project to evoke feelings of the Aussie outback.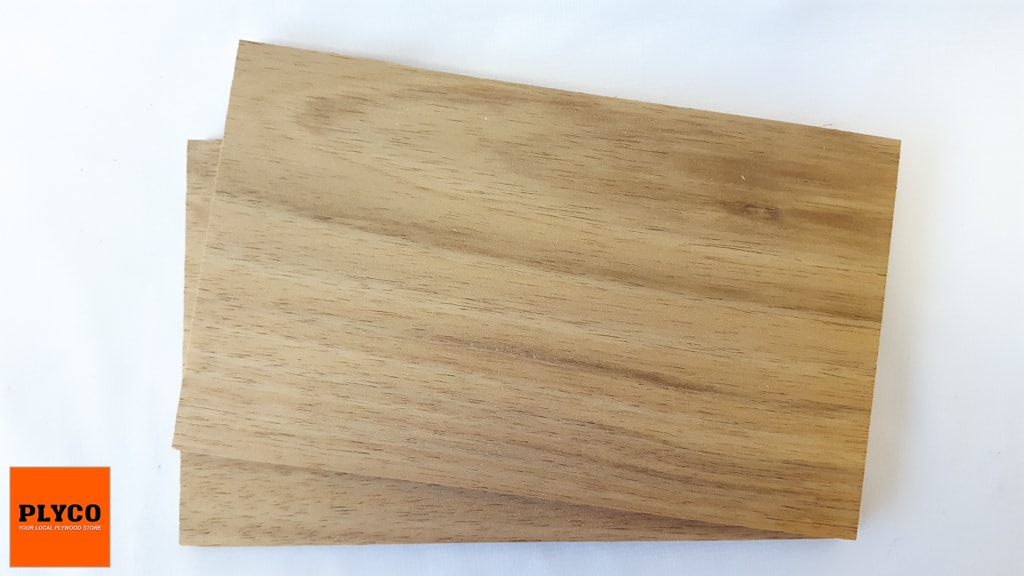 Tasmanian Oak
Last, but certainly never least, we top off our natural timber veneer range with Tasmanian Oak. This is one of the more popular veneers here at Plyco thanks to the unique facial features. You'll notice that it essentially alternates between light blonde colouring and a darker brown. Customers have grown increasingly fond of this veneer thanks to its unusual striped format.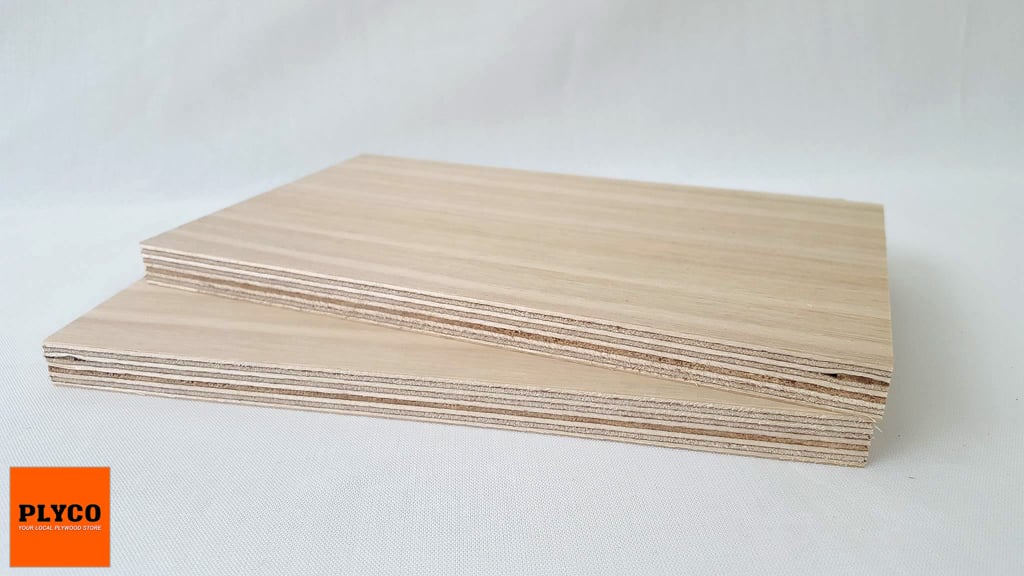 Have you browsed through our veneer collection and realised that there's a specific finish that you'd love to have, but isn't there? Don't panic! These are just the timber veneers we keep on hand at all times. In addition to these nine, we offer a special service where we can source any natural timber veneer as long as it's commercially available.
Loving the look of our veneers and want to take them for our test spin on our Particle Board. Head over to our online store where you can purchase a sheet right this second. If you're looking to brush up on some more Particle Board knowledge instead we recommend our posts on "What is Particle Board?" and the "Top Properties of Particle Board", both of which are also part of our Guide to Particle Board.